Winter Nationals Week
Crawley Hits Her Stride On Clay to Capture 18s Title
by Rhiannon Potkey, 5 January 2018
Fiona Crawley arrived at the USTA Girls 18 Winter National Championships with no assumptions about what she could accomplish.
Seeded No. 17, the blue chip sophomore from San Antonio just wanted to play her game and see what would happen.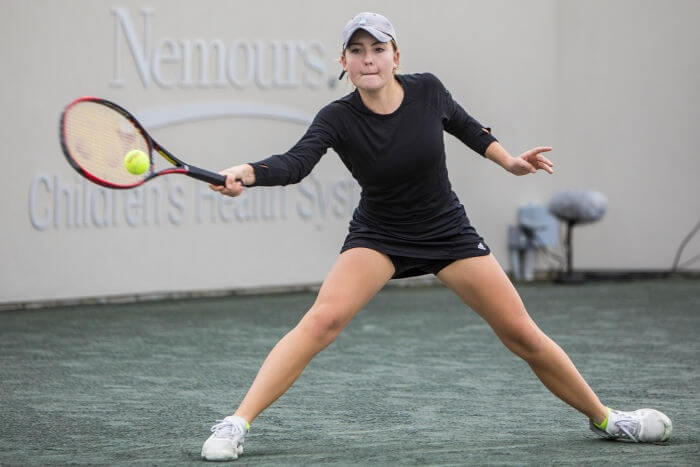 Midway through the tournament, Crawley began to realize winning a title was a very realistic outcome. She thought to herself, "Oh my gosh. I can do this. I am playing so great. This is possible."
Crawley started the new year with the same positive momentum she established in 2017, defeating No. 3 Sophia Graver 6-1, 7-5 in the final on Tuesday in blustery conditions at the USTA National Campus in Orlando, Florida.
"It felt pretty amazing. It was my first 18s national title," the 15-year-old Crawley said. "I really didn't expect I would make it to the final let alone win. But I just played really well. By playing up, there was not as much pressure, so usually you play better and I played some of my best tennis. I am happy about that."
Crawley got her shot at another gold ball on clay by registering three-set victories in the quarterfinals and semifinals.
Rallying for a 5-7, 6-1, 6-1 over No. 7 Anika Yarlagadda (West Bloomfield, Michigan) in the semifinal infused Crawley with confidence heading into her first meeting with Graver, which was broadcast on the Tennis Channel.
"I think that we were both pretty tight considering it was on TV and playing in a final is always tough. The conditions were really hard. The ball just died because it was freezing and windy," Crawley said. "Sophia is an amazing player, and I think she was a little bit more nervous than me being older and a higher seed and everything."