College Feature
Arizona State Men Begin a New Era
by Rhiannon Potkey, 11 January 2018
Matt Brooklyn walked off the court disappointed yet hopeful.
Brooklyn had recorded the only singles victory for the Arizona State men's team in a 4-2 loss to Duke in the first round of the NCAA tournament on May 10, 2008.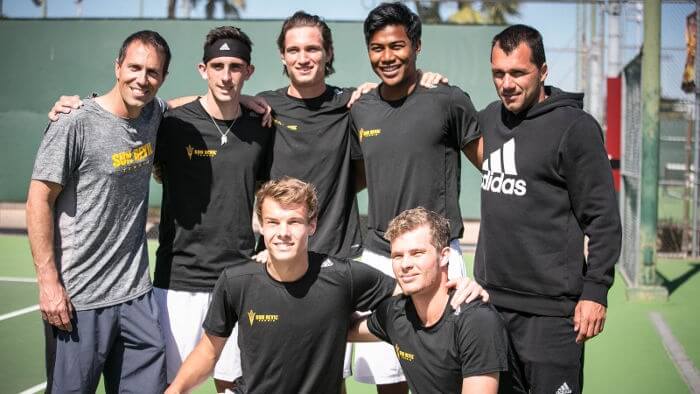 The Sun Devils had a young team and would be bringing nearly everyone back the next season. As they prepared to fly home the next morning, the players talked about making a deeper run and contending for titles.
They had no idea what was coming.
The following morning, they were called to their stadium in Tempe and told the program was being cut. Without knowing it, they had played their last match for ASU.
"It was a complete shock. It came down like a ton of bricks," Brooklyn said. "There were some tears shed. It was emotional. It was really, really tough."
A decade later, ASU is returning to the court for its first regular-season dual-match since the program was reinstated.
The first opponent? Duke.
ASU head coach Matt Hill wanted to celebrate the program's renewal with a symbolic showdown that can help bring closure to the dark days.
Hill is friends with Duke coach Ramsey Smith, and Smith altered Duke's schedule to make the trip to Arizona on Saturday.
The Sun Devils have invited members of the 2008 team, including Brooklyn, to attend the match. ASU plans to honor the team throughout the weekend with festivities and a few surprises.
The Pac-12 Network is televising the match live at 10:30 a.m. MT. Smith's father, legendary former world No. 1 Stan Smith, will be part of the telecast.
"It's going to be a pretty special weekend obviously," Hill said. "The most important part is having that 2008 group back on campus and being involved. We are very excited to have them here."
The Sun Devils may be starting over, but they are not lowering expectations. If anything, they are setting the bar even higher.
"I think our goal here is to always compete for Pac-12 and national championships, and that doesn't matter if it's year one or year 10," Hill said. "That is why these guys came here."