College News
Cal Endows Men's Head Coaching Position
by Rhiannon Potkey, 30 January 2018
Peter Wright had the numbers displayed on a whiteboard in his office. The Cal men's tennis coach was trying to figure out the parameters of a financial gift for the women's tennis program last year.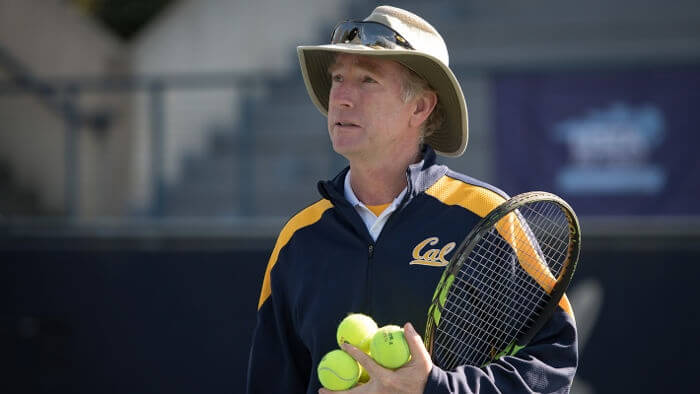 He listed the coaching salary, the operational budget and the scholarship figures. Just for fun, Wright decided to see how everything would add up for the men's program.
As he completed his totals, a friend walked into his office.
"He asked what I was doing and I told him and he said, 'I can help with you that,'" Wright said. "The next thing you know we have this amazing gift."
The amazing gift is a $3 million endowment to fund the head coaching position for men's tennis at Cal, which made the announcement official last Thursday.
It's the largest gift ever given to the men's tennis program, and doubles the current men's tennis endowment to $6 million.
The donor wishes to remain anonymous, and has no direct connection to the university other than his friendship with Wright.
"Those are great gifts, when people are very selfless in giving and don't care about any credit for it," Wright said.
The only wish the donor had was for the position to be named after the 54-year-old Wright following his retirement, which isn't anywhere on the horizon. The next Cal coach will officially be known as the Peter Wright Director of Men's Tennis.
"I told them they were crazy to name it after me. That was way too much. But that was their desire," said Wright, a Berkeley native and former Cal player who has been the program's head coach since 1993. "I was incredibly touched and humbled by the whole thing."