College Feature
Purdue Women Promote Unity Through Warm-Up Shirts
by Rhiannon Potkey, 6 February 2018
It's just one word on a shirt, but it symbolizes much more to the Purdue women's tennis team.
The Boilermakers are wearing long-sleeved, black warm-up shirts this season to help promote unity. The shirts feature a word chosen by each player that represents a way to bring people together.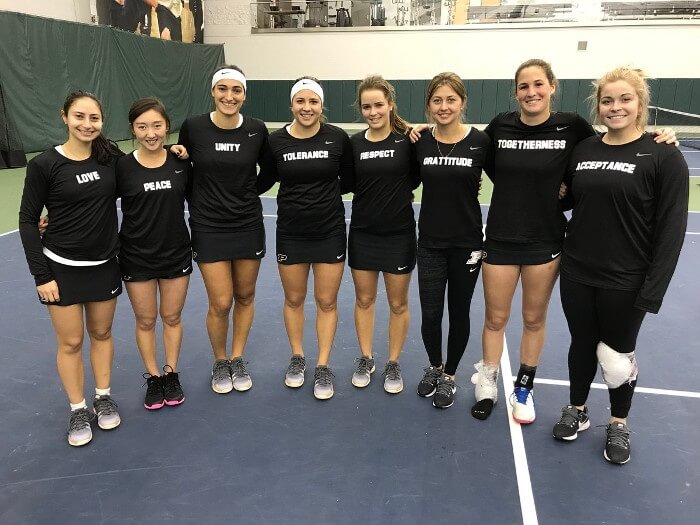 "As we all know, there are a lot of horrible things happening around the world. We wear the shirts to remind people what we fight and stand for," Purdue freshman Zala Dovnik said. "As little as it may seem, the meaning behind the shirts is very deep and I believe we are sending a strong message."
Purdue coach Laura Glitz took the idea for the warm-up shirts from the Purdue men's basketball team, which gained national attention when it debuted similar shirts before its first game in November.
Glitz asked her players during the team's holiday party if they wanted to express a similar message. They all agreed, and started discussing what words they would use.
The eight players decided on: Love, Peace, Unity, Tolerance, Respect, Gratitude, Togetherness, Acceptance.
"I asked them to give me a word that was something that could make the world a better place if everybody did a little bit more of it," Glitz said. "I wanted the words to have meaning to them and help our team try to display these qualities as well."