Special from
Zoo Tennis
MIDLAND, Mich. - After an outstanding collegiate career, Jamie Loeb left the University of North Carolina in 2015, after capturing the NCAA singles title at the end of her sophomore year. The 22-year-old New Yorker, who also won two Intercollegiate Tennis Association collegiate majors as a freshman, is now beginning her third full season on the WTA tour.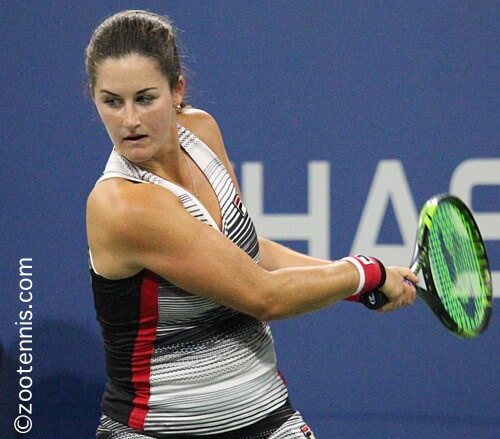 Jamie Loeb Is In Her Third Full Season On The WTA Tour
©
Zoo Tennis
Loeb, who has won seven ITF Pro Circuit singles titles and six ITF Pro Circuit doubles titles, is now at a career-high WTA ranking of 132 after reaching the final of the $100,000 Dow Tennis Classic last week. I spoke with Loeb in Midland about her goals for 2018, the financial struggles of being outside the Top 100, her current ties to UNC and how she plans to stay connected to tennis after her career is finished.
Colette Lewis: How do you feel 2017 went for you?
Jamie Loeb: Up and down. I had some good moments, some not so good moments. But I think I learned a lot for myself, how I want to play, mentally sticking to it and trusting myself, believing in my game. It's easy to doubt yourself when things aren't going so well, so I am just trusting the process, as they say, and moving forward.
CL: Where are you training now?
JL: I'm training at the USTA in New York, with my old coach Jay Devashetty. Felix Alvarado is still my coach, but he moved to Florida, to Delray. So he travels with me and then whenever I go to Florida — I went for a week in preseason — saw him and then went to Orlando. So it's a good balance. Felix was just in Orlando and Newport Beach, and on the road for three weeks, so we decided I'd do this one by myself and see how it goes.
CL: Do you spend much time at the USTA's National Campus in Florida?
JL: I went the last week of preseason; that was the last time I was there. The time before that was a few days in April. It's hard scheduling, because I love to be home and it's a lot of travel and I don't have much time home. I did in the preseason, but throughout the year, it's two weeks here, three weeks there and I like to stay in one place. I live at home with my parents.