SEC Tournament
Vanderbilt Repeats as SEC Tournament Champions
by Rhiannon Potkey, 22 April 2018
KNOXVILLE, Tenn. - As they loaded the bus for the drive back to Nashville, the Vanderbilt women had to make room for some extra hardware.
The Commodores started the SEC tournament by receiving a trophy for their SEC regular-season championship. By the end, they were handed another trophy along with T-shirts and trucker hats.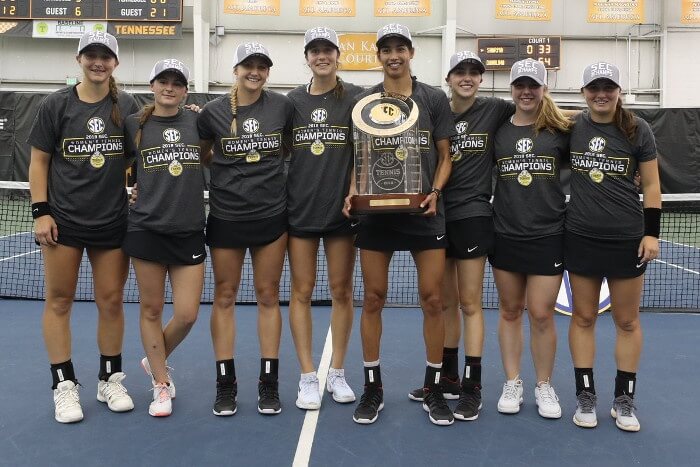 Top-seeded Vanderbilt defeated No. 2 Florida 4-0 on Sunday afternoon to capture its second consecutive SEC tournament title at the Goodfriend Tennis Center on the campus of the University of Tennessee.
"It's crazy because you know every single match in the SEC is going to be insane and going to be a battle," Vanderbilt junior Fernanda Contreras said. "We don't think about winning or losing. We just think about going out to fight and do our best and enjoy playing. We did that today and it was great."
The final was televised live on the SEC Network for the first time in history, and the potential threat of rain forced the match to be played indoors.
The teams met last weekend with the SEC regular-season title on the line and No. 2-ranked Vanderbilt outlasted No. 9 Florida 4-3 despite missing top player Astra Sharma, who was nursing a rib injury.
Although Sharma's return to the lineup netted the same outcome, it made a significant difference in the nature of the victory.
"Everybody bumps down one and the matchups were different," Vanderbilt coach Geoff Macdonald said. "What's interesting is we played them eight days ago and I don't know if there was a match that was the same today and that is striking. It was a completely new and different match and I give our kids a lot of credit for understanding that and not being overconfident at all. They were really respectful of Florida."
Vanderbilt (22-3) won the doubles point with 6-1 victories by Contreras and Sharma at the No. 1 spot and Christina Rosca and Amanda Meyer at the No. 3 spot.
Meyer gave the Commodores a 2-0 lead with a 6-1, 6-2 victory over Victoria Emma at No. 4 singles. Summer Dvorak beat Katie Kubicz 6-2, 6-1 at No. 6 for a 3-0 lead, and Contreras clinched the title with a 6-2, 6-1 win over Josie Kuhlman at No. 2.
It marked the second straight year Vanderbilt has defeated Florida (18-8) for the SEC tournament title. The Gators still lead the all-time series 49-9, but the Commodores have won eight of the last 10 meetings between the rivals.
"It is extremely competitive," Dvorak said. "They come out and give it their all every time in doubles and singles and it's very even on every court and very fair. It is one of the best rivalries in tennis."
Having the SEC final televised live on the SEC Network for the first time gave the players a little "extra, extra" in Dvorak's words.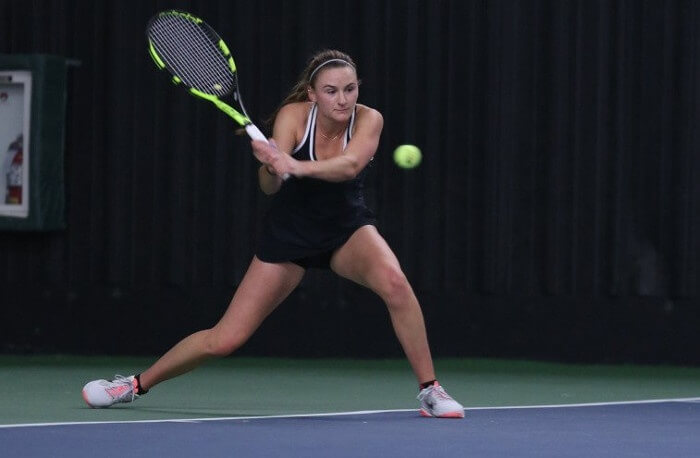 "It was awesome for women's tennis and women's athletics in general," the Laguna Beach, California native said. "Being able to be on TV and promote the sport we are all playing and love is awesome."
Macdonald credited the SEC with allotting time to showcase college tennis to an audience that may not know much about the format.
"I think when people get familiar with women's college tennis, they go 'Wow. I had no idea this was such good play,'" Macdonald said. "There is an intimacy to it and you get to know the players a bit, emotionally you see their ups and downs. So hats off to the conference for putting it on the SEC Network, and I hope it's the first of a lot to come."
Contreras' parents in Texas were watching the match as was her extended family in Mexico. Contreras hoped her sister was tuning in somehow.
"She said she may have it on in the background while she studies for finals," Contreras said. "I told her 'you do you girl, you do you.' I am just happy she's supporting."
If her sister took a study break, she would have seen Contreras earn Most Valuable Player honors after clinching the win and getting swallowed by her teammates in a group hug to celebrate.
"I think all the girls were MVPs. You can't really pick. It's the team that wins, not just one player," Contreras said. "I lost a week ago against Florida and the team pulled me up. It's like holding the rope. If someone falls, someone else is there to hold the rope. If you have a bad day, the team is there to help you have a good one."
Having won 11 straight matches and defended its SEC regular-season and tournament titles, Vanderbilt will now get a break before the NCAA tournament begins on May 11. The Commodores will spend the next few days studying for finals and letting their bodies rest and recover.
"We take more time off than most teams I think. They have been going so hard that we just say to them, 'Look, you have a good bit of time here to focus on your finals,' and we literally say to them 'Do not play,'" Macdonald said. "We want them to come back fresh and we found it works OK. You need breaks in tennis. I think the more is better doesn't always work."
Vanderbilt 4, Florida 0
Doubles
1. #22 Fernanda Contreras /Astra Sharma (VU) def. #13 Anna Danilina/Victoria Emma (UF) 6-1
2. McCartney Kessler/Josie Kuhlman (UF) 6-1 vs. #58 Emma Kurtz/Emily Smith (VU) DNF (UF 5-1)
3. Christina Rosca/Amanda Meyer (VU) def. Katie Kubicz/Peggy Porter (UF) 6-1
Singles (Order of finish: 4, 6, 2*)
1. #14 Anna Danilina (UF) vs #8 Astra Sharma (VU) DNF (UF 6-3, 4-3)
2. #7 Fernanda Contreras (VU) def. #47 Josie Kuhlman (UF) 6-2, 6-1
3. McCartney Kessler (UF) vs #44 Christina Rosca (VU) DNF (UF 6-2, 4-4)
4. Amanda Meyer (VU) def. Victoria Emma (UF) 6-1, 6-2
5. Emma Kurtz (VU) vs Peggy Porter (UF) DNF (UF 6-5)
6. Summer Dvorak (VU) def. Katie Kubicz (UF) 6-2, 6-1
About K-Swiss
College Content at TennisRecruiting.net is sponsored by K-Swiss.
At K-Swiss we are 100% invested in the sport of Tennis and committed to helping players play their very best and win at every level. From a competitive junior or adult player to the greatest doubles team of all-time, Mike and Bob Bryan. For over 50 years we have been making some of the most innovative, high quality tennis footwear in the game featuring the very best in comfort with a consistent fit.
We encourage you to try the K-Swiss shoe that is best for your game.
Connect with K-Swiss on Facebook, Twitter, and YouTube - or on their website.
Leave a Comment
More College Coverage
31-Dec-2019
A Day In The Life: Georgia Gwinnett's Valentino Caratini
Ever wonder what a typical day is like for a college tennis player? We've got you covered. Through their own words, we take you inside the schedule of juggling practices, matches and classes. Welcome to A Day In The Life of Georgia Gwinnett's Valentino Caratini.
21-Nov-2019
Mortera Navigates First Recruiting Period for Ute Women
Ric Mortera was hired to lead the Utah women's program on June 28th. Like nearly all first-year coaches, he knew some patience would be required for his first signing class. The Utes haven't signed anyone for 2020 yet, but are hoping two players can become the perfect fits.
20-Nov-2019
Nott Begins New Chapter at UT-Rio Grande Valley
After starting his coaching career with a Power Five conference program, West Nott has returned to college tennis with a program more removed from the national spotlight. Nott has taken over as the women's head coach at the University of Texas-Rio Grande Valley.
About Rhiannon Potkey
Rhiannon Potkey is a veteran sportswriter with more than two decades of experience in journalism. Potkey has covered many sports at many levels and has a passion for finding great stories. Potkey has covered the U.S. Open, junior sectional and national events, college conference championships and Davis Cup matches. Potkey is currently Content Strategist for Tennis Recruiting. You can reach Rhiannon by email at
rhiannon@tennisrecruiting.net
.