NAIA Championships
Able and Robinson Help Georgia Gwinnett Extend Dominance
by Rhiannon Potkey, 31 May 2018
Gabrielle Robinson was recruited to Georgia Gwinnett College out of high school, but decided to go a different direction.
The Stone Mountain, Georgia native played for nearby Kennesaw State for one season before transferring to Southern Miss.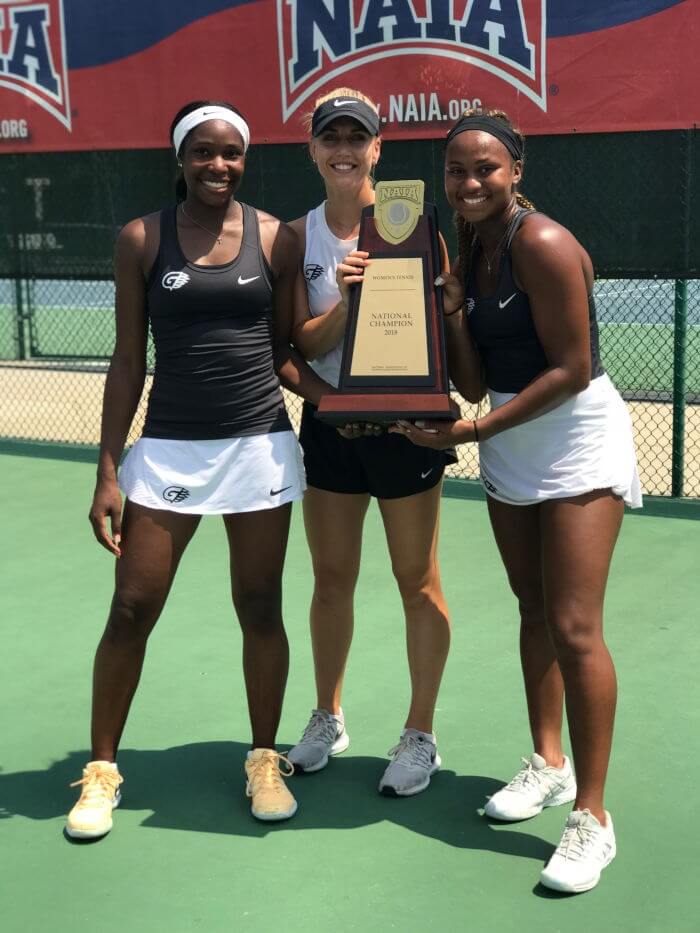 Gabrielle Robinson, Assistant Coach Hannah Keeling and Emerald Able Celebrate with the National Title Trophy
But after one season at Southern Miss, the former four-star realized she wanted to be closer to home again and Georgia Gwinnett was back on her radar.
As a newcomer on the team this season, Robinson felt the weight of the NAIA program's high standards.
"It was a little stressful knowing they had won the national title the last two years" she said. "I felt a little pressure that I needed to play good every time I played because everybody kind of expected us to win again."
The Grizzlies didn't disappoint, capturing their third straight NAIA national championship and fourth in five years. Second-seeded Georgia Gwinnett defeated No. 1 Keiser University 5-2 in the final, avenging a 5-4 regular-season loss to the Seahawks.
"It was amazing. Everybody was crying, but it was a happy cry," Robinson said. "It was a really good moment because we worked so hard to win it."
Georgia Gwinnett swept both titles again this year. The men's team captured their fifth straight national title. They didn't drop a single match in the four rounds, and defeated No. 2 Keiser 5-0 in the final.
"The feeling really doesn't get old," said Chase Hodges, who coaches both programs. "Every year is a new experience, so it's definitely gratifying with each new national title."
Robinson and Emerald Able were the only two Americans on the women's or men's rosters this season.