College Feature
Kulikov is the Quarterback of USC Women's Tennis
by Rhiannon Potkey, 7 September 2018
Any time Angela Kulikov sees guys playing pickup football, she can't resist the urge to jump behind center and throw some passes.
Kulikov's first love is tennis, but playing quarterback is her second passion.
The University of Southern California junior has been slinging it around since elementary school, where she was usually the only girl involved in the playground games at recess.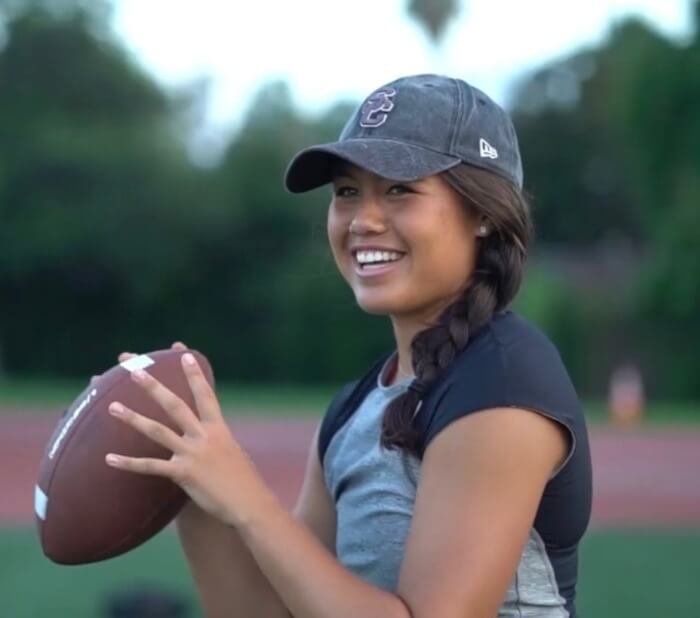 USC's Angela Kulikov Plays Tennis and Quarterback
Her devotion fully evolved suffering a knee injury at age 15. During her long recovery, Kulikov needed an outlet beyond tennis to keep from getting frustrated.
She decided to start coaching her younger brother, Chris, on how to play quarterback.
"I always wanted to play football myself and I kind of saw it as an opportunity to live vicariously through him," Kulikov said. "I went on YouTube and Instagram to see what all the major QB coaches were saying, and began learning more and more so I could teach him."
Other people starting taking notice once Kulikov began accompanying her brother to quarterback camps and clinics in the football-fertile Southern California area.
"They all found it funny that this little 10-year-old boy was getting really good and here was his sister throwing the ball with him to warm up," Kulikov said. "They all know him in the L.A. area as the kid with the quarterback sister."