Special from
Zoo Tennis
Heat and humidity blanketed New York in the first week of the U.S. Open, and after a brief break, returned with a vengeance during the Junior Championships in the second week. Because the ITF Junior Circuit had announced a new extreme heat rule (Pages 70-73) in January, junior matches were suspended for two and a half hours one day and delayed more than three hours on another occasion, an unwelcome and unexpected disruption for the junior competitors.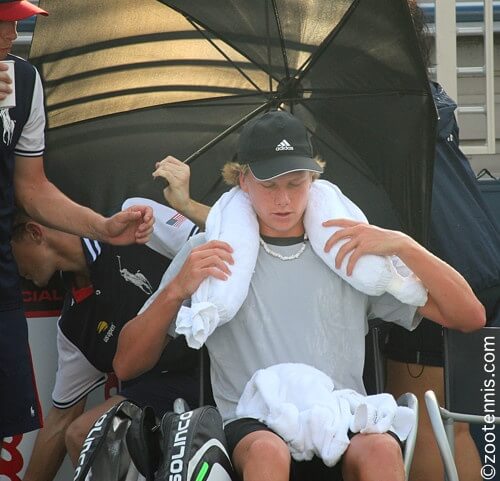 Jenson Brooskby Uses Ice to Cool off at US Open
© Zoo Tennis
Many of them were puzzled by the decision to suspend play, which they had not encountered in any previous ITF Junior Circuit event, although none denied that conditions were uncomfortable.
"For me the heat rule is confusing," said Coco Gauff, who trains in Florida. "We had this in Baton Rouge [at a USTA Pro Circuit $25,000 tournament in June], but it was extreme heat. Here it was like 93 when they stopped it, but in Baton Rouge it was like 104 and felt like 120; that was understandable, even I was feeling it. Here it's not close to that, so a lot of people, not just myself, were kind of confused about it."
"It was very hot, it helped a lot of people I'm sure," Hailey Baptiste said of the suspension of play in New York. "I know a lot of people were dying and it affected me a little bit, because I had a long match. It was really hot, and I was getting tired. Always in the moment, it feels like it's the worst, but I'm sure I've played in hotter."