Notes
The table above lists all recruits as of May 3, 2019. In addition to the Star Rating, we display the highest TRN, ITF junior, and WTT rankings for each player over the 6-month period prior to the voting, and for international players we display the TRN ranking they would hold if eligible. We also display current UTR numbers from the date the voting began.
Other women's programs receiving votes are: Purdue (59), N.C. State (48), Clemson (33), Columbia (28), North Texas (19), Kansas (17), Penn (15), Georgetown (14), SMU (8), San Diego (7), California (6), College of Charleston (5), Navy (5), Michigan State (4), Colorado (3), Gonzaga (2), Mississippi State (2)
Gamecocks Walking Tall
It has been a historic year for the South Carolina Gamecocks.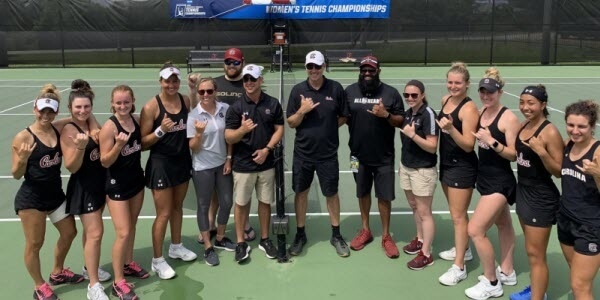 USC posted a 17-3 mark in the regular-season with a school-record 12 SEC wins. The Gamecocks then went to the SEC Tournament where they knocked off previously undefeated and top-ranked Georgia to win the school's first-ever SEC Championship. That performance was good enough to earn the No. 4 national seed in the NCAA Tournament, and the Gamecocks advanced to the NCAA quarterfinals for only the second time in school history and the first since 1982. 2018-19 was arguably the best year in the history of South Carolina Women's Tennis.
And 2019-20 is off to a good start. Although they lose three senior starters from the roster to graduation, the squad welcomes the No. 1 recruiting class in the nation to Columbia next Fall.
Head Coach Kevin Epley has recruited a six-woman class that features a nice mix of three American and three international players. The American players include a pair of 5-Star seniors, Emma Shelton and Elise Mills, as well as 3-Star senior and local product Kendall Couch. Shelton, who hails from Gainesville, Fla., has gone deep into the draw of several national tournaments, posting 16 wins against 5-Star and Blue Chip opponents - including four matches at the USTA Winter Nationals. Mills of Prosperity, S.C., who is staying in-state at USC, found notable success at the South Carolina ITF last fall when she reached the Girls' 18 quarterfinals.
The international recruits are headlined by Gemma Heath of Great Britain who reached the second round of the main draw at Roehampton. Joining Heath are Ana Luiza Cruz of Brazil, who won multiple ITF titles in her home country, as well as Spaniard Gabriela Martinez Asensi who won the singles championship at Miedzynarodowy o Puchar Slaska in Poland.
South Carolina earned 8 of 15 first-place votes from our panel to outpace the field and earn the No. 1 ranking among 2019 recruiting classes. They also received 343 out of a possible 375 points, easily outpacing the field.
Coach Epley, who was recently named ITA National Coach of the Year, is understandably excited about the future of Gamecock tennis.
"We are losing our top two players, so there are big shoes to fill," said Epley. "It's great to know we have a nationally-respected class to step in and pick up where the older ones left off. Keeping in stride with recent tradition, we have a great mix of foreign and American players, and there is a lot of talent we are looking forward to developing into great Gamecock athletes who can take our program to the next level."
South Carolina has been on an upward trend the past couple of years. This recruiting class should allow that climb to continue.
Shuffling at the Top
Top-ranked South Carolina was No. 8 in our previous rankings published in February, and there are more teams shuffling around at the top.
Our panel voted the UCLA Bruins as the No. 2 class with 324 points and one first-place vote. Head Coach Stella Sampras-Webster, who usually attracts home-grown talent from California, reached outside the state to bring in a pair of Blue Chip recruits in Abigail Forbes (Raleigh, N.C.) and Canadian Alexandra Vagramov.
Laura Granville and the Princeton Tigers also vaulted up the rankings from No. 11 up to No. 3. Princeton added Russian recruit Daria Frayman to a trio of American talent all ranked among the Top 40 seniors nationally to garner 305 points and one first-place vote.
Three other teams earned first-place votes from our panel, starting with the Texas Tech Red Raiders who check in at No. 4 with two first-place votes. They are joined by the Yale Bulldogs (No. 5, two first-place votes) and Florida State Seminoles (6, one first-place vote).
New Kids
Our commitment list has blossomed to include almost 900 girls in the Class of 2019, and many schools have talent coming in that was not reported back during the winter. Six schools have climbed into our Top 25 that were unranked in February.
The recruiting class from No. 6 Florida State, who we mentioned in the previous section, did not earn a single point during our winter voting period. But the Seminoles are bringing in three top international players who should help the team compete in the top-heavy ACC.
Also new to the rankings are the Nebraska Cornhuskers, who have their first ranked recruiting class in school history at No. 14 in our rankings. Other ranked recruiting classes new for 2019 are Pepperdine (No. 17), Harvard (20), Old Dominion (21), and Iowa State (23).
Conference Balance
It is rare to see so much balance in our Top 25. Six different conferences each have three or more recruiting classes in our rankings: the ACC, Big Ten, Big 12, Ivy League, Pac 12, and SEC.
Two of these conferences stand out above the others. The Big Ten has five ranked recruiting classes - the most of any conference - although none of them broke into the Top 10. The Big Ten is led by No. 14 Nebraska, and they are joined in the rankings by Michigan (No. 15), Ohio State (16), Northwestern (19), and Illinois (22).
The Pac 12 has three classes in our rankings, and all three of them are among the Top 10 - leading all conferences. The NCAA Champion Stanford Cardinal (9) join UCLA (2) and USC (6) on our list of top classes.
Outside the Power 6
Two programs in our rankings come from outside the six so-called "power conferences" mentioned in the previous section: the Pepperdine Waves (No. 17) and Old Dominion Monarchs (21).
Pepperdine, fresh off an NCAA quarterfinal appearance, are back in the recruiting class rankings for the first time since 2016. The Scandinavian duo of Astrid Wanja Brune Olsen (Norway) and Lisa Zaar (Sweden) look good for the Waves.
Old Dominion Coach Dominic Manilla has brought a ranked recruiting class to Norfolk, Va., for the first time in school history. Shahar Biran (Israel) and Alexandra Viktorovitch (Sweden) are the highest-rated pair to ever commit to ODU tennis.
Panelists for May 2019
The 15 panelists for this voting period are shown below alphabetically. Please join us in thanking them for donating their time and talents to this effort.
Casey Chapin - National Tournament Director, Director, Hudlow Tennis Center
Sonny Dearth - Daily Press newspaper and dailypress.com Web site in Newport News, Va.
Joey Dillon - TRN contributor, freelance writer
Tim Donovan - Donovan Tennis Strategies, DTS College Prospects Showcases
Larry Haugness - USTA/Missouri Valley Executive Committee, Former ITF and USTA National Tournament Director, PTR National Tester, USPTA, Junior Davis Cup Coach
Granger Huntress - Texas College Tennis blog
Pua Johnson - USTA National and ITA Collegiate Referee
Ernie Katko - Junior Development Coach in Chicago, USTA High Performance Coach
Bobby Knight - College Tennis Today
Patty Lambropoulos - Junior Tennis Coordinator, College Park Athletic Club, National Tournament Director, Chicago District Board of Director and Endorser, Midwest Junior Competion Committee
Colette Lewis - ZooTennis.com
Rick Limpert - TRN contributor, freelance writer
Robert Sasseville - National Tournament Director, USTA Junior Competition Committee Member, USTA National Referee
Lisa Stone - ParentingAces.com
Julie Wrege - TRN principal, TennisInformation.com principal, former National Tournament Director, former USTA junior ranking chair and USTA Tennis Rules Committee member
About Mizuno
Mizuno is proud to sponsor Recruiting Class Rankings at TennisRecruiting.net.
Reach Beyond
Mizuno is a brand that offers superior sporting goods designed to bring happiness and joy to all through the power of sports. We know that playing sports is a journey, and are committed to crafting the high-quality products athletes need throughout their journey – regardless of who they are, which sport they love or at what level they play. Mizuno is passionate about sports, and we'll always strive to help athletes find their inspiration – just as we have for over 100 years. #REACHBEYOND
Learn more about Mizuno and how they can help elevate your performance at www.mizunousa.com. Follow @MizunoTennisNorthAmerica for the latest in tennis news and product releases.
To see if you qualify for a preferred player package, please contact Tyler Carey. All NCAA recognized college tennis programs are eligible to receive discounts on Mizuno tennis shoes.
Leave a Comment
More Recruiting Class Rankings
25-May-2020
Top Men's Classes - 2020 Rankings
As we move into summer and towards reopening, the Class of 2020 has been moving forward. As of today, over 1,600 seniors have reported commitments to college tennis programs, and more are making verbal commitments each and every week. The decision-making will continue, but now is a good time to check in on where where things stand. Today, TRN and Mizuno are excited to bring you their poll of the Top 25 Men's College Tennis Recruiting Classes.
21-Jun-2019
2019 Top NCAA D-III Women's Classes
The Tennis Recruiting Network wraps up its spring recruiting class rankings with a look at the D-III women. Today we present our list of the Top 25 NCAA D-III women's recruiting classes for 2019. This year, a new program has Engineered its way to the top of the rankings for the first time ever.
17-Jun-2019
2019 Top NCAA D-III Men's Classes
The Tennis Recruiting Network is excited to present its recruiting class rankings for NCAA Division III conferences. Today we unveil our Top 25 D-III men's recruiting classes for 2019. For the fourth time in five years, our top-rated class comes from the Windy City.