Notes
The table above lists all recruits as of May 25, 2019. In addition to the Star Rating, we display the highest TRN and ITF junior rankings for each player over the 6-month period prior to the voting, and for international players we display the TRN ranking they would hold if eligible. We also display current ATP and UTR numbers from the date the voting began.
Also Receiving Consideration
We reviewed the resumes for more than 50 teams for these rankings. Teams that received strong consideration and almost made our list are (alphabetically) as follows:  Army, CMS, Dayton, George Mason, Middlebury, Monmouth (NJ), Valparaiso, Winthrop
Cresting Waves
Pepperdine University hired a new head coach for 2018-19 in Adam Schaechterle, and the Schaechterle era is off to a good start. The Waves posted an 11-13 record this past year and were above .500 in WCC play - which is a marked improvement over the 7-16 (3-6) mark in 2017-18.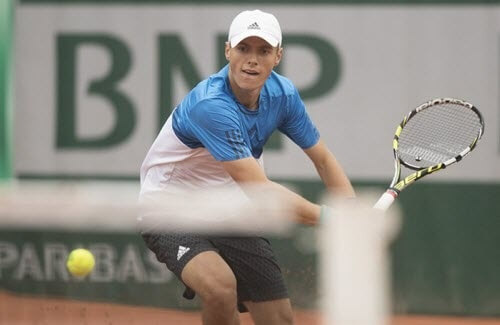 And things are just getting started. The Waves return five of their top six singles players in 2019-20, and they will mix in three incoming freshmen that make up the No. 1 mid-major class in the country.
The class is led by Kacper Zuk of Poland who has a UTR of 14.33 - the highest rating of all 2019 recruits other than Jenson Brooksby. Zuk, who was formerly ranked No. 21 in the ITF Juniors, has an ITF professional singles ranking of 206 based on an 18-5 record in main draw matches on the ATP and ITF World Tennis Tour this year.
Zuk is joined by a pair of Top 100 Americans, Robert Shelton of Lancaster, Penn., and local product Evan Shamlian of Cheviot Hills, Calif. Shamlian has aged out of playing junior events, while Shelton posted a pair of singles wins in the 18s division at Kalamazoo in 2018.
"These guys we have coming in 2019 are a great reflection of the culture we are building," said Schaechterle. "They love tennis, they are passionate about academics, and they want to be pushed by coaches and teammates."
Schaechterle also credited his assistant coach Tassilo Schmid, with contributing to the recruiting effort.
"[Schmid] has proven to be a phenomenal recruiter. He did an incredible job with the 2018 group - and has only improved with this 2019 class."
This recruiting class is part of a young nucleus of players that should be more than enough to keep the Waves on a positive trajectory over the coming years.
Give Me Five
The top of our mid-major class rankings list is very strong. Multiple programs were worthy of consideration for the top spot - including No. 2 Southern Methodist University.
SMU is another program with a new head coach, as the Mustangs tapped former UCLA assistant Grant Chen to helm the program in June 2018. Chen's first recruiting class consists of six Americans heading to Dallas from all across the country - including Blue Chip senior Julian Noah Steinhausen of Los Angeles and 5-Star Ethan Leon of Woodhaven, N.Y. 2019 marks the first ranked recruiting class - overall or mid-major - ever to commit to the Mustangs. Debuting at No. 2 is pretty strong stuff.
The Gonzaga Bulldogs check in at No. 3 in our rankings with a mix of American and international recruits. Blue Chip senior Eric Hadigian (Sacramento, Calif.) and Swedish standout Oliver Andersson headline a quartet that should help push the Zags towards its first-ever NCAA Tournament appearance.
Rounding out the Top 5 in our rankings are the Fresno State Bulldogs (No. 4) and Louisiana Ragin' Cajuns (5).
State Breakdown
As we have seen in past years, California schools are well represented in our mid-major rankings. Five of the Top 25 recruiting classes on our list hail from the Golden State - including three in the Top 6. Top 5 programs Pepperdine (No. 1) and Fresno State (4) are joined in the rankings by the Santa Clara Broncos (6), San Diego Toreros (16) and Cal Poly Mustangs (18).
Texas is next on our list with three ranked programs and two in the Top 10. No. 2 SMU leads the way for the Lone Star State and is followed by UTSA (9) and Rice (11). Other states with multiple programs in our list are Louisiana and Florida with two ranked classes apiece.
Conference Call
The 25 recruiting classes on our list hail from 11 different conferences, with five conferences standing out above the rest, starting with the West Coast Conference.
The California-centric WCC has four programs in our rankings, but three of those programs are in the Top 6. Pepperdine (No. 1), Gonzaga (3), and Santa Clara (6) are joined by San Diego at No. 16 to snare a quarter of the Top 16 spots in the rankings.
Two other conferences have four ranked classes apiece: the American Athletic Conference and Mountain West Conference. The AAC programs are SMU (2), Central Florida (8), Wichita State (10), and Tulane (21). The MWC is represented by Fresno State (4), Utah State (17), Air Force (19), and UNLV (22).
Other Division I conferences with multiple classes in the rankings are Conference USA (3 ranked classes), Atlantic Sun (2), and Big East (2).
D-III Power
Finally, we would be remiss if we didn't point out the accomplishments of NCAA Division III powerhouse University Athletic Association. UAA teams pop up in our D-III rankings like daisies, but it is more uncommon for them to appear on our mid-major list that includes hundreds of NCAA Division I and Division II programs. Nevertheless, this year two UAA recruiting classes made our list - the University of Chicago (20) and Carnegie Mellon University (25). We could discuss their recruits at length - but I have a feeling we'll get to discuss them in next Monday's NCAA D-III recruiting class rankings … stay tuned!
Coming Friday … Mid-Major Women
We are only a few days away from publishing the mid-major women's list. This coming Friday, TennisRecruiting.net and Mizuno will release ranking of the top 25 women's mid-major recruiting classes. Next week we will wrap up this ranking season with our lists of the top NCAA Division III programs.
About Mizuno
Mizuno is proud to sponsor Recruiting Class Rankings at TennisRecruiting.net.
Reach Beyond
Mizuno is a brand that offers superior sporting goods designed to bring happiness and joy to all through the power of sports. We know that playing sports is a journey, and are committed to crafting the high-quality products athletes need throughout their journey – regardless of who they are, which sport they love or at what level they play. Mizuno is passionate about sports, and we'll always strive to help athletes find their inspiration – just as we have for over 100 years. #REACHBEYOND
Learn more about Mizuno and how they can help elevate your performance at www.mizunousa.com. Follow @MizunoTennisNorthAmerica for the latest in tennis news and product releases.
To see if you qualify for a preferred player package, please contact Tyler Carey. All NCAA recognized college tennis programs are eligible to receive discounts on Mizuno tennis shoes.
Leave a Comment
More Recruiting Class Rankings
21-Jun-2019
2019 Top NCAA D-III Women's Classes
The Tennis Recruiting Network wraps up its spring recruiting class rankings with a look at the D-III women. Today we present our list of the Top 25 NCAA D-III women's recruiting classes for 2019. This year, a new program has Engineered its way to the top of the rankings for the first time ever.
17-Jun-2019
2019 Top NCAA D-III Men's Classes
The Tennis Recruiting Network is excited to present its recruiting class rankings for NCAA Division III conferences. Today we unveil our Top 25 D-III men's recruiting classes for 2019. For the fourth time in five years, our top-rated class comes from the Windy City.
3-Jun-2019
Top Women's Classes - 2019 Spring Rankings
Last week, we ranked the men's recruiting classes. Today, we take a look at the women. TRN and Mizuno are proud to present its spring rankings of the Top 25 Women's Recruiting Classes. Four new faces have popped into the Top Ten over the past few months, and there is a new face at the top - with the Gamecocks' first appearance at No. 1.