Notes
The table above lists all recruits as of May 25, 2019. In addition to the Star Rating, we display the highest TRN and ITF junior rankings for each player over the 6-month period prior to the voting, and for international players we display the TRN ranking they would hold if eligible. We also display current WTA and UTR numbers from the date the voting began.
Also Receiving Consideration
Our D-III panel reviewed the resumes of more than 50 D-III recruiting classes in coming up with these rankings. Other recruiting classes that received strong consideration and almost made our list are (alphabetically) as follows: Carleton, Colby, CWRU, Occidental, Redlands, Sewanee, St. Thomas (TX), Swarthmore, Wellesley
Stacking the Cards
Wesleyan University is the toast of D-III Tennis. The Cardinals had a storybook run in 2019, posting a 19-2 record, winning its first-ever NESCAC Title, and then outlasting teams in nail-biting fashion to capture its first ever NCAA Championship. Freshman Venia Yeung capped off the season by advancing to the finals of the NCAA singles competition.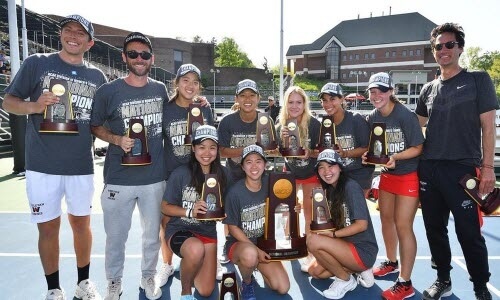 Wesleyan loses No. 1 singles player Victoria Yu to graduation, but the rest of the squad will be back. And next year, the Cardinals also have the No. 1 recruiting class in the country coming to town.
Give 7th-year Head Coach Mike Fried credit for recruiting a stellar recruiting class. Five Americans - all 4-Star prospects - will be arriving in Middletown from across the country. Three of them hail from the Pacifc Northwest - Katherine Fleischman (Medina, Wash,), Alexandra Gaeth (Seattle, Wash.), and Serim Jin (Portland, Oregon). They will be joined by Highland Park, Ill., native Caitlyn Goldberg and Caitlyn Ferrante of Yorktown Heights, N.Y. Over the past year, these athletes have collectively posted 33 combined wins over opponents rated 4 Stars or better. That is good enough to earn Wesleyan its first-ever No. 1 recruiting class after placing No. 2 in 2017 and No. 3 in both 2014 and 2018.
With a strong nucleus of players returning from the 2019 National Champion team and a bevy of top recruits, the arrow is certainly pointing up for the Wesleyan tennis program.
Top Five
Carnegie Mellon is another program that is posting its best-ever recruiting class - earning the No. 2 spot on our list. The Tartan class is headlined by Kritika Chhabra of India, who has posted several wins on the ITF junior circuit. She is joined by 4-Star senior Bin Zheng of Miami, Fla., as well as 3-Star recruits Madeline Fidel (Wheaton, Ill.), Lauren James (Ft. Lauderdale, Fla.), and Megan Qiang (Beachwood, Ohio).
The MIT Engineers follow up their top-ranked class from 2018 with the No. 3 class in 2019. Head Coach Carol Matsuzaki's class comes from tennis-playing locales all across the country: 4-Star seniors Pamela Duke and Yuka Perera of California join Texas 4-Star Sarah Pertsemlidis, 4-Star Seraphin Castelino of Colorado, and Florida 3-Star Sara Fernandez.
The Emory Eagles (No. 4) and Babson Beavers (5) round out the Top 5.
Conference Call
The 25 programs in our rankings represent 11 different conferences. The New England Small College Athletic Conference leads all conferences with 7 recruiting classes in the Top 25 and three among the Top 10. Top-ranked Wesleyan hails from the NESCAC, as do the Tufts Jumbos (No. 7) and Middlebury Panthers (9) in our Top 10. Other NESCAC programs in the rankings are the Williams Ephs (17), Amherst Mammoths (18), Bowdoin Polar Bears (19), and Bates Bobcats (25).
The University Athletic Association is another of our usual suspects, with 5 of its 8 institutions on our rank list - including three of our Top 6. Carnegie Mellon and Emory lead the way at No. 2 and 4, respectively, and they are followed by the Chicago Maroons (6), NYU Violets (12), and Wash U Bears (14). All five ranked UAA recruiting classes are among the Top 14.
The Liberty League is also of note, putting three classes into the rankings: Skidmore (11), RPI (15), and Vassar (22).
Other conferences with multiple ranked classes are the NEWMAC and SCIAC with two ranked classes apiece.
Checking State
14 states are represented in our rankings, but Massachusetts stands out above all others. The Commonwealth features 5 programs in our rankings, including 3 in the Top 10. MIT (No. 3), Babson (5), and Tufts (7) all have Top 10 classes, and they are joined in the rankings by Williams (17) and Amherst (18).
Next up is New York with 4 ranked classes. Skidmore (11) and NYU (12) are Empire State schools with ranked classes - as are the RPI Redhawks (15) and Vassar Brewers (22).
Other states with multiple ranked classes are Maine (3 ranked classes), California (2), and Virginia (2).
That's a Wrap
Over the past two weeks, TRN and Mizuno have put out six sets of recruiting class rankings. These rankings recognize hundreds of athletes from the Class of 2019 - and more than 100 college tennis programs from across the nation. Congratulations to all of these programs - and good luck to all of these seniors!
About Mizuno
Mizuno is proud to sponsor Recruiting Class Rankings at TennisRecruiting.net.
Reach Beyond
Mizuno is a brand that offers superior sporting goods designed to bring happiness and joy to all through the power of sports. We know that playing sports is a journey, and are committed to crafting the high-quality products athletes need throughout their journey – regardless of who they are, which sport they love or at what level they play. Mizuno is passionate about sports, and we'll always strive to help athletes find their inspiration – just as we have for over 100 years. #REACHBEYOND
Learn more about Mizuno and how they can help elevate your performance at www.mizunousa.com. Follow @MizunoTennisNorthAmerica for the latest in tennis news and product releases.
To see if you qualify for a preferred player package, please contact Tyler Carey. All NCAA recognized college tennis programs are eligible to receive discounts on Mizuno tennis shoes.
Leave a Comment
More Recruiting Class Rankings
21-Jun-2019
2019 Top NCAA D-III Women's Classes
The Tennis Recruiting Network wraps up its spring recruiting class rankings with a look at the D-III women. Today we present our list of the Top 25 NCAA D-III women's recruiting classes for 2019. This year, a new program has Engineered its way to the top of the rankings for the first time ever.
17-Jun-2019
2019 Top NCAA D-III Men's Classes
The Tennis Recruiting Network is excited to present its recruiting class rankings for NCAA Division III conferences. Today we unveil our Top 25 D-III men's recruiting classes for 2019. For the fourth time in five years, our top-rated class comes from the Windy City.
10-Jun-2019
2019 Top Mid-Major Men's Classes
The Tennis Recruiting Network continues its series of recruiting class rankings with the first of our mid-major conference rankings. Today we present the Top 25 mid-major men's recruiting classes for 2019 - which will crash over you like a Wave.