Commitment Profile
Injury Helps UCLA-Bound Ong Realize Benefits of College
by Rhiannon Potkey, 7 August 2019
Playing college tennis wasn't on Vanessa Ong's mind when she reached the quarterfinals of the Junior U.S. Open at age 14. She was strictly focused on a potential pro career.
But injuries changed Ong's perspective.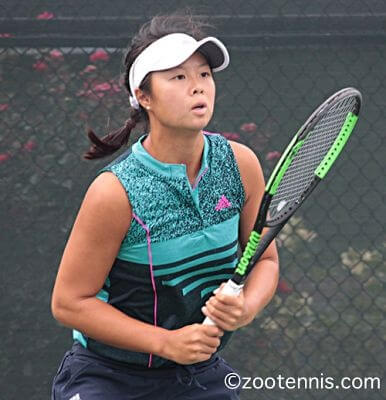 Vanessa Ong Has Committed to UCLA
© Zoo Tennis
Ong missed nearly a year of serious competition with an abdomen strain, and then suffered an ankle injury last fall that hindered her playing ability.
"It made me realize college was a really good path to get to the pros as well," Ong said. "It just gave me a lot of time to think about it, and I also felt like I fell a little behind some of the other top players."
After researching her college options, Ong realized UCLA was the right fit for her future. The blue chip rising senior committed to the Bruins in June.
"I really loved the atmosphere and L.A. is a great place to be obviously," Ong said. "The coaches are great and I got along with them so well. I just felt like a good vibe about everything. It fit really well."
Ong made an official visit to UCLA in late May. Her other official visit was to Oklahoma. She was planning to visit Pepperdine, Vanderbilt and TCU before deciding her search was over.
"I honestly wasn't expecting to commit when I got to UCLA, so there really wasn't a time zone for me to make a decision," Ong said. "It was more about when I was ready, and I felt like I was ready after UCLA. It kind of came more by surprise."