Special from
Zoo Tennis
CORAL GABLES, Fla. - A wet week in the Miami area made completing the 58th edition of the Junior Orange Bowl a challenge, but four champions were crowned Sunday after playing their fifth matches in three days. Americans Stephanie Yakoff and Nishesh Basavareddy took the 14s titles, while Mirra Andreeva of Russia and Benjamin Gusic Wan of Great Britain claimed the championships in the 12s division.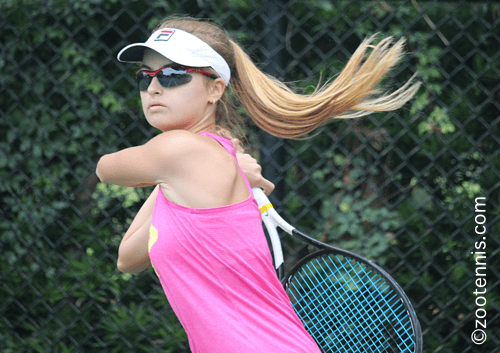 Girls 14s Singles Champion Stefanie Yakoff
© Zoo Tennis
With the University of Miami courts undergoing resurfacing and unavailable for this year's tournament, the Kerdyk Tennis Center at the Biltmore Hotel was scheduled to host the semifinals and finals of the girls 12s and 14s and the boys 14s. (The boys 12s play their entire tournament at Salvadore Park). But due to a complete rainout of the third round on Thursday, the girls 12s and boys 14s stayed an extra day at their Crandon Park site, with only the finals combined at the Biltmore. With a dire forecast for Monday, originally scheduled as the final day, the tournament committee moved the championship matches up to Sunday. Although the day dawned with heavy cloud cover and a few sprinkles fell, all four finals were completed Sunday morning.
Both Yakoff and Basavareddy lightened their burden by minimizing their time on court, both advancing to the finals without dropping a set. And as regular competitors in USTA events, the two Americans were accustomed to multiple matches in a day.
Yakoff, a No. 9 seed, defeated Brooklyn Olson, also a No. 9 seed, 6-2, 6-3 in the quarterfinals and Sara Saito of Japan, a No. 17 seed, 6-1, 6-2 in the semifinals, both on Saturday.