Special from
Zoo Tennis
When Kathy Rinaldi first began working for USTA Player Development back in 2008, she had an impressive list of accomplishments on the WTA tour, including its Newcomer of the Year award at age 14, a Wimbledon semifinal, three WTA titles and a Top 10 ranking.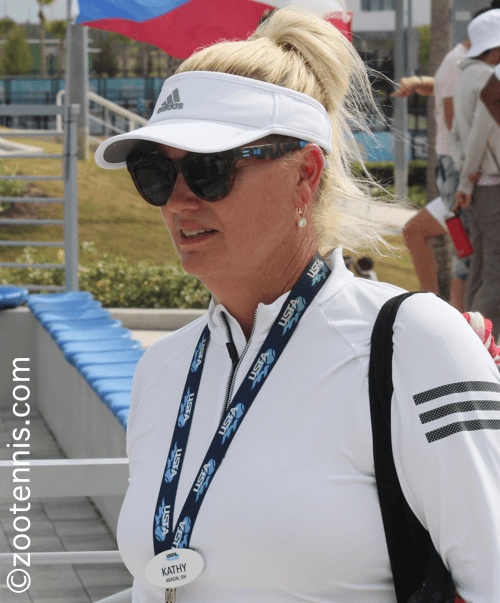 Kathy Rinaldi is the Head of Women's Tennis at USTA
© Zoo Tennis
As she moved into a coaching role, Rinaldi did not focus on those who were, as she was, at the highest levels of the game, but rather on the young American players hoping to get there. As a National Coach at the USTA, Rinaldi conducted camps, traveled to junior tournaments and served as team captain for many of the USTA-sponsored international trips and competitions. Rinaldi was captain of the United States teams that claimed the International Tennis Federation's World Junior Tennis 14-and-under team competition championships in 2009 and 2010, and the ITF Junior Fed Cup titles the United States won in 2012 and 2014.
In 2016, Rinaldi was promoted to Lead National Coach for women, and late that year was named Fed Cup captain. Rinaldi led the U.S. women to the title the following year in Belarus, their first Fed Cup championship since 2000, and to the final, against the Czech Republic, in 2018.
Late in 2018, Rinaldi was named head of women's tennis at the USTA, replacing Ola Malmqvist, who moved to the position of director of coaching. Rinaldi, now 52, retains her position as Fed Cup captain and is currently preparing for February's tie against Latvia in the Seattle area.
After more than 10 years of shorter conversations with Rinaldi at junior tournaments around the world, I sat down with her for a formal interview at last month's Junior Orange Bowl, where she spent several days watching young Americans competing for the titles.
Colette Lewis: How do you like your new job?
Kathy Rinaldi: It's been fun and I've been enjoying it. It's a huge responsibility, but I really am enjoying it. I'm in I think my 12th year now with the USTA. This was one of my first trips here [as a USTA National Coach] at the [Junior] Orange Bowl with Sachia Vickery and Vicky Duval, and now to see them all grown and doing so well, thriving, it's very rewarding.
I just completed my first year as head of women's tennis. I'll be in my fourth year as captain of the Fed Cup. Time is flying.