Player Spotlight
Spotlight Players of the Week: Emily Parkerson, Aaron Gu
by Rhiannon Potkey, 20 October 2020
SPOTLIGHT ON Emily Parkerson (Boston, Massachusetts)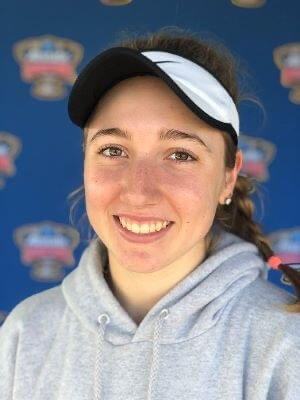 Music on your playlist: It depends on the day. It's usually rap or hip hop. I like to listen to Eminem.
Dream vacation destination: Greece, because whenever I look at pictures of Greece it's just so beautiful on the ocean and everything.
Favorite food: Pizza
Favorite athletes: Caroline Wozniacki and Michael Jordan
Future occupation: I'd love to work in medicine. I am not really sure because my mind changes a lot. But definitely something in STEM.
If you could have dinner with anyone dead or alive, who would it be: Michael Jordan, because I think the way he conducts himself both on and off the basketball court is inspiring and he is also one of the greatest athletes to ever exist. I think getting to talk to him would be really cool.
Must-watch TV show: Gossip Girl
Favorite movie: Inception
If I am not playing tennis, I am … hanging out with friends. I also recently started skateboarding. I am working on trying to ollie. It's the most basic trick, but I've spent months trying to do it and I just can't.
Instagram handle: @emily_parkerson