Star Ratings Spring 2021 Edition
by Julie Wrege, 1 March 2021
Each year, Tennis Recruiting Network awards its Star Rating accolades to the best players in each class. The very best players are tabbed as Blue Chips, and we also award 5 Star, 4 Star, 3 Star, 2 Star, and 1 Star accolades to top athletes. Just earning a rating is an achievement. Only players who qualify for a TRN national ranking - less than one-quarter of players who compete in USTA tournaments - receive Star Ratings.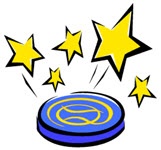 The Star Ratings use the Class Rankings system, and the ratings are updated twice a year based on a player's highest rankings. These ratings - our Spring Ratings for 2021 - are based on rankings from the past eight weeks.
You can read all about the Star Ratings by clicking here.
So here they are ... the Star Ratings for Spring 2021:
Congratulations to all the great young players on their Star Rating accolades!
Two Important Notes:
While the Star Ratings pages (see links above) are up to date as of 6 a.m. Eastern / 3 a.m. Pacific, we are in the process of updating the ratings for all player profile pages in the system - bear with us if your profile page does not yet have the proper rating. (Check whether your page has been updated by looking at the "Page updated on ..." message at the bottom of your profile.)
Also, note that the most recent rankings lists - Class Rankings and RPI lists for both boys and girls - will show the Fall ratings until new rankings are published later this week. The new rankings that come out Tuesday through Friday will include the new Spring 2021 ratings.
Leave a Comment
More Website News
15-Apr-2021
NCAA Lifts Division I Recruiting Dead Period Beginning June 1
The NCAA Division I Council approved the return to recruiting activities during its video conference this week, and officially announced the change on Thursday. All Division I sports will return to their regular recruiting calendars beginning June 1st.
26-Mar-2021
USTA-ITA Unveil New Strategic Alliance to Elevate College Tennis
The United States Tennis Association (USTA) and the Intercollegiate Tennis Association (ITA) announced Thursday they have entered into a "new strategic alliance that formalizes the two organizations' ongoing collaboration to strengthen and elevate collegiate tennis."
18-Mar-2021
NCAA Plans April Vote On Lifting In-Person Recruiting Ban
The NCAA Division I Council announced Thursday it plans to vote in April on lifting the ban on in-person recruiting that has been in place for more than a year because of the coronavirus pandemic.