College Feature
Scholarship Helps Students Pursuing Management Career in Tennis
by TRN Staff, 25 February 2021
The USTA - in collaboration with the USPTA and Professional Tennis Registry (PTR) - is offering a scholarship program for incoming and current college students seeking a Professional Tennis Management degree through a PTM program.
The recipients of the USTA's PTM scholarship program are eligible to receive $2,000 per year to help cover the cost of tuition. The scholarship will be paid directly to the college or university in which the student is enrolled and disbursed annually based on the recipient's standing in college.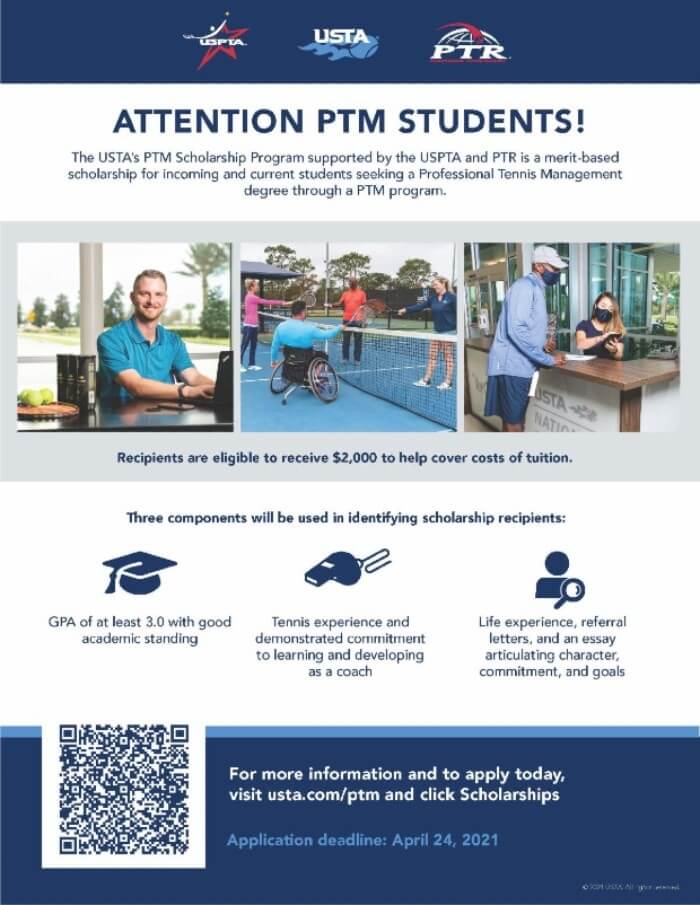 Qualifying students must be 18 years of age and older (on or before the submission deadline), have a GPA of at least a 3.0 and have participated in a recognized tennis program such as a high school tennis team, National Junior Tennis & Learning chapter or local tennis program at a club or community tennis association. Students must also plan on having a career in the tennis industry.
The deadline to apply is April 24, 2021.
Students applying for the scholarship will be required to provide two letters of recommendation - one from a certified tennis professional from either USPTA or PTR, and the other from an established tennis coach. If applying to a PTM graduate program, a GRE score is required. It is the expectation that students applying for this scholarship will complete their degree program.
Schools offering undergraduate PTM programs include:
Berry College (Georgia)
University of Central Florida
Ferris State University (Michigan)
Hope College (Michigan)
Manhattanville College (New York)
Methodist College (North Carolina)
Schools offering graduate PTM programs:
Bridgewater State University
San Diego State University
University of Florida
Schools offering continuing education programs:
For more information about the scholarship program, visit the USTA site.
Leave a Comment
More College Coverage
8-Apr-2021
ITA Reviews Rankings Because of Covid-19 Impact
Given the impact of Covid-19 on the college playing schedules, the ITA released an update this week about the status of the college rankings. The organization has been in communication with the NCAA about how the rankings may be used for the upcoming championship selections.
19-Mar-2021
Georgia Gwinnett Men Set All-Time Consecutive Wins Record
The NAIA's top-ranked Georgia Gwinnett College men's tennis made history on Monday with its 138th straight dual match victory, beating No. 14 University of the Cumberlands 5-0. According to the school, it's the longest win streak in all of college sports.
11-Mar-2021
Meet The Assistant: Keiser University's Brian Slack
Assistant coaches might not get as much attention as head coaches, but they are highly valued by everyone within a college program. They work long hours to help teams try to win matches and help players try to achieve their goals. In this edition of Meet The Assistant, we profile Keiser University's Brian Slack.