College Feature
Texas Tech Wins Thriller over Oklahoma to Claim Blue Gray Championship
by
Colette Lewis
, 29 March 2010
Tim Siegel, head coach of top-seeded Texas Tech, was worried. Not because the Blue Gray Classic championship match with No. 2 seed Oklahoma was moved indoors due to rain, even though the Red Raiders hadn't played under a roof all year. And not because Big 12 rival Oklahoma, just one spot below his 16th-ranked team, was a threat to end Tech's 14-match winning streak. It was the invitation to next year's Blue Gray Classic, which will see the men's participants drop from 16 teams to eight to accommodate eight women's teams, that concerned him.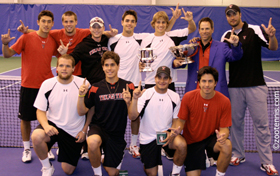 "I was so nervous that if we didn't win it, we wouldn't be able to come back," said Siegel, whose team has developed a bond with the Montgomery, Ala. families who have served has their hosts the past five years. "That's how much the tournament means to me. I can't tell you how much I appreciate the families, what they've done for us."
Those families made the 45-mile trip to Auburn's Yarbrough Tennis Center on a cold and rainy Sunday morning, loudly supporting their houseguests throughout the four-hour contest, which ended with Tech's Raony Carvalho clinching the 4-3 victory at No. 1 singles.
The start of the match was every bit as exciting as the finish. The doubles point came down to a tiebreaker at No. 2, with Gonzalo Escobar and Andre Stabile saving three match points in their 9-8(8) win over Sooners David Pultr and Ionut Beleleu. Setting up that drama was an easy 8-2 win at No. 1 by Carvalho and Rafael Garcia over Oklahoma's Andrei Daescu and Costin Paval, while at No. 3, Lawrence Formentera and Blake Boswell got a late break against Texas Tech's Vitor Manzini and Raphael Pfister and held serve for a 9-7 win.
At No. 2, both teams served for the match in regulation - Oklahoma at 7-5, Texas Tech at 8-7 - but neither had a match point. The first for Oklahoma came with Beleleu serving at 6-5 in the tiebreaker; the second Escobar saved with a serve winner at 6-7, and the third, with Pultr serving at 8-7, was lost when Stabile drilled a forehand volley winner up the middle. Pultr missed his first volley on the next point, giving Tech its first and only match point. Stabile hit a first-serve winner and the heart-stopping doubles point went to the Red Raiders.