Special from
Division III Tennis
The NCAA Division I team finals take place today, but the Division III championships are just getting underway. Today, the author of the Division III Tennis Blog stops by with a preview of the Men's Final 8 which starts today in Ohio.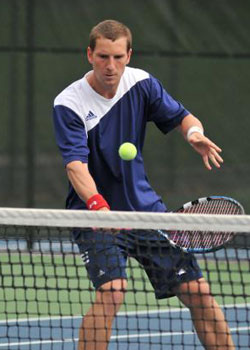 #1
Middlebury
will be tough to beat
courtesy, Middlebury Athletics
The 2010 NCAA Division III men's championship will be played on the campus of
Oberlin College
in Ohio at the Don Hunsinger Tennis Courts May 25-30. We are down to the Final 8, five of whom were also in the quarterfinals last year. Defending national champion
UC Santa Cruz
has already been eliminated, so we will have a new champion in a few days.
The quality of D3 tennis is better than ever right now. In fact, if you look at the rosters of the eight teams competing, six of the teams boast at least four 4-star recruits. The rest of the rosters are filled with high end 3-star recruits as well as some international players. I'm really looking forward to this year's championships so let's take a look at the matches.
Quarterfinal #1: Middlebury vs. North Carolina Wesleyan
Middlebury is currently ranked #1 in the country and will be appearing in their 8th consecutive Elite 8. The Panthers had an undefeated regular season in D3 play and last won the national title in 2005. This small school from Vermont is one of the best liberal arts schools in the country, and they are coached by the ITA Northeast Region Coach of the Year, Dave Schwarz. Middlebury has a great core of four seniors and they are the favorite to win the tournament.
North Carolina Wesleyan is currently ranked #11 in the country and will be appearing in their first-ever Elite 8. NCW burst onto the national scene last year and spent this entire year in the top 15. NCW has a roster of all foreign players due to the school's outstanding financial aid package for international students. This small college in Rocky Mount, N.C. is a program on the rise and upset #10 Johns Hopkins in the Sweet 16 this year.
Both teams pride themselves on their singles play. Middlebury has arguably the best top four D3 has ever seen - given that their #3 player was ranked #6 in the country in D3 in 2009 and their #4 is currently top 20 in the country. Midd has cruised all season, and if they are healthy they will be very tough to beat. NCW was down to Hopkins 3-0 in the Sweet 16 after doubles before storming back to win five consecutive singles matches for a 5-3 win. NCW is just happy to be here, and I think Midd will have a little too much firepower. Key spots to watch are #3 doubles, #2 singles and #4 singles.