NCAA Championship Summary
USC Wins Back-to-Back NCAA Titles with Win Over Tennessee
by
Colette Lewis
, 28 May 2010
What a difference a year makes. The outcome didn't change Tuesday night at the Dan Magill Tennis Complex in Athens, Ga. - the USC Trojans are again NCAA men's tennis champions after a 4-2 victory over Tennessee Tuesday night - but the team's state of mind as the NCAA finals again approached certainly did.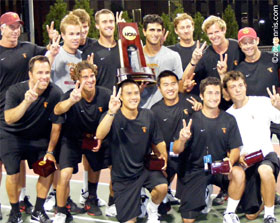 "Last year was something unbelievable," senior Robert Farah said of the
title
USC won in College Station, Texas. "This year, I don't know what happened, but I thought we were going to win the whole way. I really liked that feeling. I was out there and I really trusted that we could do this. Last year in my match against (
Ohio State
's Bryan) Koniecko, I was so nervous. This year I didn't have my best start, but it wasn't because I was nervous. I was completely relaxed out there, just playing another tennis match. And I think that really made a difference in our team and their team."
"I completely agree," said head coach Peter Smith. "As the match went on, I was kind of going, this is the national championship, but it was just like, normal."
The No. 5 Trojans knew they were on the road however, as it was Tennessee, the second seeds, who had the bulk of the fans in the bleachers. A thousand or so made the trip south to Athens, wearing their distinctive neon orange and waving pompons, hoping to spur the Volunteers to their first national title after two previous appearances in the final.
It started off well for Tennessee, as none of their three doubles teams lost their serves, getting 8-6 wins at No. 1 and No. 3 to take a 1-0 lead.
But the singles were a different story, as Southern Cal claimed five of six first sets, with Farah coming from a break down at No. 1 to take a tiebreaker from JP Smith in their opening set. Tennessee's Tennys Sandgren was the only Volunteer to take a first set, twice coming from a break down against Daniel Nguyen at No. 4 and winning it in a tiebreaker.