NCAA Championship Summary
Gullickson and Klahn Lead U.S. Sweep of NCAA Singles and Doubles Titles
by
Colette Lewis
, 3 June 2010
For the second consecutive year, Americans claimed the men's and women's singles titles at the NCAA Division I individual championships, with U.S. players also capturing both doubles titles Monday to complete the sweep.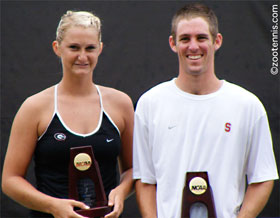 Stanford
's Bradley Klahn defeated Austen Childs of
Louisville
6-1, 6-2, while
Georgia
's Chelsey Gullickson battled to a 6-3, 7-6(7) decision over
Cal-Berkeley
's Jana Jurikova on a damp and humid afternoon at the Dan Magill Tennis Complex at the University of Georgia.
Early morning drizzle gave way to a late morning shower, but despite frequent rumbles of thunder and an occasional fat drop of rain, there was a four-hour window of dry weather that allowed the uninterrupted completion of all four finals.
Klahn, a 9 seed, had taken control of his match with the unseeded Childs early, breaking him in the fourth game and again in the sixth. Using his forehand to keep Childs on the defensive, Klahn didn't let the occasion disrupt his focus, thanks to some advice from his coach John Whitlinger, a Stanford NCAA singles champion in 1974.
"About an hour and a half before the match, I pulled him aside and said, I've been through this," Whitlinger said. "The biggest thing is that you've got to stay in the moment. When I played it, Chico Hagey killed me in the first set and I didn't let it bother me. We played three out of five then and I won the next three sets. Don't think about what's in the past, or what's potentially in the future, just stay in the moment and play each point."
After Klahn broke Childs in a nine-deuce game to open the second set, the temptation to start thinking about joining the 13 other NCAA singles champions from Stanford must have been great. But Klahn didn't succumb.
"Having coach talk to me before calmed my nerves a bit," said Klahn. "I had a million thoughts racing through my head when we were coming to the site today. I thought I did a good job of not getting caught up in what was at stake, taking it point by point. That's the only way to go. If you start thinking about what if, you make it a bigger deal than it is."
Back in February, Klahn had lost three of four matches at No. 1 singles, but said the Cardinal's goal is always to peak in May. After a couple of close three-setters in the second and fourth rounds, the Poway, Calif. native saw it all come together in the final two matches, beating top seed Henrique Cunha of Duke Sunday and Childs in the final, losing only seven games total.
"I started playing a little bit better each round and by the semis and finals, I really thought I found my game," Klahn said.
Childs agreed.
"I couldn't keep it away from his forehand, and he was just cracking winners from everywhere," said Childs, a junior from New Zealand. "I was trying to get to his backhand and then go to his forehand, but his forehand was big today."