Tournament Summary
Domijan Dominates as Virginia Sweep D'Novo/ITA All-American Championships
by
Colette Lewis
, 14 October 2010
It didn't take long for Virginia freshman Alex Domijan to shake up the status quo in Division I men's college tennis. Given a wild card into the D'Novo/ITA All-American championships as the country's top freshman, Domijan drew No. 13 seed Javier Garrapiz of Georgia in the first round of last week's tournament, played at the Michael D. Case Tennis Center on the campus of the University of Tulsa.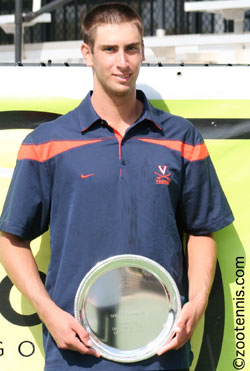 After Domijan defeated the 14th-ranked Garrapiz 6-2, 6-1, eyebrows were raised. Two more 6-2, 6-1 victories later, including one over No. 2 seed and ITA Rookie of the Year Henrique Cunha of
Duke
, made it as clear as the Oklahoma skies that Domijan was a serious threat to become the first freshman to win the All-American since Ryan Wolters of
Stanford
in 1995.
Playing six singles matches in four days, as the 64-draw requires, brings mental and physical stamina to the forefront. Even with the ideal weather conditions for this year's tournament, the schedule, which also includes doubles, can challenge the most experienced collegian. None of it fazed Domijan, who added a 6-3, 6-4 win over No. 9 seed Alex Lacroix of Florida in the quarterfinals and a few hours later eliminated 2010 NCAA champion Bradley Klahn of Stanford 7-5, 6-4 to reach the final of the collegiate season's first major.
With the first round loss of Tennessee's J.P. Smith, the defending singles champion, the top half of the draw opened up, and two more Virginia Cavaliers made the most of it. Drew Courtney and Sanam Singh reached the quarterfinals, making Virginia the first team since Stanford in 1990 to have three All-American quarterfinalists.
It was Kentucky's Eric Quigley who emerged to challenge Domijan in the final, however, as the junior, seeded eighth, survived two tough three-setters before finding his form in the quarterfinals and semifinals with straight-set wins over Singh and Duke's Reid Carleton.