Recruiting Feature
2011 Top Mid-Major Women's Classes
by TennisRecruiting.net, 8 June 2011
Tennis is one of the most popular college sports around. There are almost 2,500 programs across the country playing intercollegiate tennis at some level.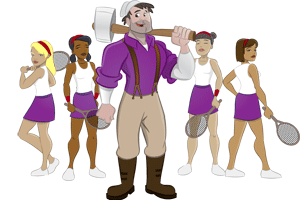 With so many programs, it is not surprising that there is significant depth when it comes to talent and ability. Many of these talented programs come from so-called "Mid-Major" programs - programs outside of the NCAA Division I conferences that play football on ESPN.
On Friday, we took a look at the mid-major men. Today, the Tennis Recruiting Network is proud to present the Top 25 Mid-Major Women's Recruiting Classes for 2011.
Top 25 Mid-Major Women's Recruiting Classes (through May 20)
These rankings include all colleges in all divisions except for those in the "high-major conferences". The high-major conferences for tennis include schools affiliated with Bowl Championship Series conferences - the ACC, Big East, Big 10, Big 12, Pac 12, and SEC - as well as the Ivy League.
These rankings include players who will be incoming freshmen during the 2011-12 school year. We did not include transfers or players who enrolled in Spring 2011. This list is based on commitments reported on or before May 20, 2011.
So here they are... your Top 25.
Honorable Mention
Other women's programs that received strong consideration from our experts are (listed alphabetically): BYU, Carnegie Mellon, Florida Atlantic, Liberty, Navy, San Jose State, Temple, Williams, Xavier.
Chopping Some Wood
Head Coach Patrick Sullivan has been working hard in his first year as the head coach at Stephen F. Austin University. One area where Sullivan has seen success is on the recruiting trail. The SFA recruiting class was voted No. 23 overall by our panel of voters - and we give the Ladyjacks the nod as the top mid-major recruiting class of 2011.
Sullivan has attracted a number of highly-ranked international women to come to Nacogdoches, Texas. In the early spring, SFA announced its first wave of signings with three recruits:
Malena Gordo
of Argentina, who was formerly ranked #34 internationally,
Elena Kordolaimi
, who reached No. 1 in Greece as a junior, and
Nataly Yoo
, who reached No. 522 in the WTA rankings and splits her time between Argentina and Texas.
Over the next month, SFA announced the signings of Julia Lorca (France), Dalina Dahlmans (Germany), and Daphne Friedrichs (Germany). These six athletes should lift SFA toward the top of the Southland Conference.
Around the Top 5
Blue Chip and international recruits are prevalent at the top of the mid-major rankings.
Long Beach State checks in at No. 2 on our list. Head Coach Hilt-Costello brought in Belgian standout Laura Bernard, who has a career high ITF ranking of No. 284 and has won multiple ITF titles, as well as Karolina Rozenberg, a Russian with an ITF ranking of No. 360. These two recruits should help the 49ers defend their Big West title.
The Pepperdine Waves, who brought in the highest-ranked American of any mid-major with Californian Lorraine Guillermo, are No. 3 in these rankings. The St. Mary's Gaels and Hawaii Rainbows round out the Top 5.
State Breakdowns
The 25 programs in our rankings come from 14 different states. As usual, many of these programs call California home. Six programs in the Top 25 - and four in the Top 10 - are from the Golden State. In order, the ranked California schools are Long Beach State (No. 2), Pepperdine (3), St. Mary's (4), Loyola Marymount (8), UC Santa Barbara (13), and UC Irvine (16). Of the 11 recruits heading to these six schools, seven of them are from California while the other four are from overseas.
The Lone Star state is second amongst states. Three recruiting classes in our Top 25 - two in the Top 10 - hail from Texas. Other states with multiple ranked recruiting classes are Massachusetts, North Carolina, South Carolina, and Virginia - each with two Top-25 programs.
Conference Call
The West Coast Conference leads all conferences with four programs in the rankings. No. 24 Gonzaga joins California schools Pepperdine (No. 3), St. Mary's (4), and Loyola Marymount (8) to give the WCC more programs than any other.
The schools in the rankings represent thirteen NCAA Division I and two Division III conferences. Other conferences with multiple programs in the rankings are the Atlantic 10 (3 programs), Big West (3), MAC (3), and SoCon (2).
NCAA Division III is represented by Washington & Lee (No. 10) and Johns Hopkins (22).
Ahead... NCAA Division III Rankings
Next Monday, TennisRecruiting.net will release its ranking of the top 25 men's recruiting classes in NCAA Division III. And later next week we will wrap up our spring recruiting class rankings with the top D-III women.
Leave a Comment
More Recruiting Class Rankings
21-Jun-2019
2019 Top NCAA D-III Women's Classes
The Tennis Recruiting Network wraps up its spring recruiting class rankings with a look at the D-III women. Today we present our list of the Top 25 NCAA D-III women's recruiting classes for 2019. This year, a new program has Engineered its way to the top of the rankings for the first time ever.
17-Jun-2019
2019 Top NCAA D-III Men's Classes
The Tennis Recruiting Network is excited to present its recruiting class rankings for NCAA Division III conferences. Today we unveil our Top 25 D-III men's recruiting classes for 2019. For the fourth time in five years, our top-rated class comes from the Windy City.
14-Jun-2019
2019 Top Mid-Major Women's Classes
TennisRecruiting.net is back today with more rankings of mid-major recruiting classes. Today we present the Top 25 mid-major women's recruiting classes for 2019. Check out the top of the rankings - where the Waves are cresting.