Player Profile
Burdette Begins Pro Career After Stellar Summer
by
Colette Lewis
, 12 September 2012
Stanford All-American Mallory Burdette wasn't convinced she wanted the life of a professional tennis player until this summer, when the 21-year-old from Jackson, Georgia played four professional tournaments in a period of four weeks in July and August.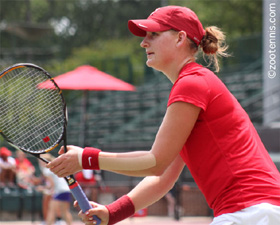 Burdette has had a fantastic summer on the pro tour
©
ZooTennis.com
Starting with the Bank of the West Classic on the Stanford University campus, where, as a wild card she claimed her first WTA Top 100 win over No. 75 Anne Keothavong of Great Britain and had set points on No. 10 Marion Bartoli of France before falling 7-5, 6-0, through the $10,000 Pro Circuit event in Evansville, Indiana, which she won without dropping a set, to the $50,000 Pro Circuit tournament in Lexington, Kentucky, where she reached the quarterfinals, to the $100,000 Vancouver Challenger, where she won the title and a US Open main draw wild card, the summer produced one highlight after another for Burdette.
"I very much enjoyed myself over the course of the summer, playing all these tournaments, even playing four tournaments back-to-back," said Burdette, the 2012 NCAA singles finalist. "I enjoyed the process, and I think a lot of that stems from having a better mindset out there on the court."
When Burdette used her wild card at the US Open to reach the third round, defeating Timea Bacsinszky of Switzerland and Lucie Hradecka of the Czech Republic before falling to No. 3 seed Maria Sharapova, envisioning herself as a professional tennis player became much easier. Shortly after her loss to Sharapova, Burdette decided to forego her senior season at Stanford and turn pro.
"Over the course of the summer I had conversations with my parents, with Nick (Saviano) my longtime coach, and with my sports psychologist Alexis Castorri, but I wasn't going to let my teammates and my coaches find out from an interview," Burdette said of her statements on television and in press conferences that she was returning to school.
"I was never going to make an announcement there, even though it may have made things easier with agents and things like that," Burdette continued.
"Ultimately, it's a very personal decision. I talked to my parents about it, got a lot of input from a lot of different people, but it was a decision I had to make for myself. I had pretty much changed my mind while I was up there in New York, but I wasn't going to say anything about it until I had a chance to call [Stanford coaches] Lele (Forood) and Frankie (Brennan) and let them know."