Ask the Experts
Countdown: Talking with BC Alum Justin Slattery
by
Harry Cicma
, 8 November 2013
Follow Harry on
Twitter
Justin Slattery played for Boston College from 2000 to 2004, playing No. 1 singles and doubles throughout his career and serving as team captain.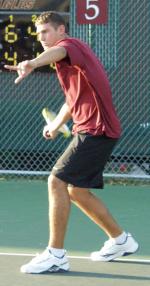 Harry Cicma
of NBC News caught up with Slattery, who reflects on his time at BC and what the college experience means to him.
Questions and Answers
Harry Cicma (HC): What were your best memories playing tennis at Boston College?
Justin Slattery (JS): There were a lot of things. I guess I'd start with the team camaraderie. Playing No. 1 singles and doubles as a freshman and having three other freshman in the lineup enabled us to have an extremely tight-knit team all four years. And I always loved the road trips. Some epic events took place that always make us laugh when we all get together.
It was nice seeing friends at other schools. Clashing with great New England friends who competed on other Big East teams and universities across the country was always a blast. A battle to the end but then great respect after the match. I know you remember those battles, Cicma!
We had such a great support group at BC which was led by our parents. They built some everlasting friendships, and it was so rewarding to be a part of that. My closest relationships were born from the BC experience - I will forever appreciate and cherish what I have with those guys.
HC: How is life after Boston College Tennis going for you?
JS: While those years at BC were some of the best years of my life, I have to say that the years following were even better. I was extremely fortunate to have met my wife, Liz, at BC and we have been together for nine-and-a-half years and married for three. We are so blessed to have a precious 18-month old son, Austin - who is lefty for the record and is the man. (Laughs) We are enjoying life in the "burbs" outside of Boston and spending time with our loving families and friends.
Professionally, I am enjoying helping individuals and families plan for retirement and retire with dignity and independence as a financial advisor with Baystate Financial in Boston. I try to stay active in tennis and in the community by volunteering my time with the BC Men's Tennis Program, playing in the Boston Pro Tennis League and the North Shore Men's Tennis League.
HC: You were a late bloomer, playing a few other sports in High School, along with tennis. How did that help you thrive at Boston College?
JS: Playing many sports growing up - and being a 3-sport high school athlete - helped tremendously for not only my tennis career at BC and beyond but also with life in general. Each sport - whether individual or team - added its own element to athletic and life development. I have many conversations with parents and kids about whether or not their kids should choose one sport and stick with it, and I have always maintained that kids these days should play as many sports as they can despite the incredible pressure from coaches wanting the opposite because not many people go pro and there will come a time when sports will no longer be the main focus and priority as it was at a younger age.
HC: What advice would you give young players in high school, looking to play top tennis at a top program?
JS: I would focus on three areas: mental toughness, turning weaknesses into strengths, and conditioning.
At any level, mental toughness is what differentiates the best from the rest. But mental toughness is even more important in tennis because it is such a mental sport.
At the high school level, virtually all players have a weakness or two, and those will be exploited at the next level. If a high school player can turn that non-existent slice backhand or powder-puff second serve into a respectable shot, it will raise the value of that player dramatically and translate into more wins since the competitor will have to spend most of the first set trying to find the weakness.
And conditioning is a no-brainer - it is a must-have for any college program.
HC: You had great success in doubles as well, with ATP professional wins. What are the keys to winning in doubles?
JS: Chemistry is so important - do you need an example other than the Bryan Brothers? I was fortunate to have played with a few guys that were and still are great friends. It's a nice feeling to know when your partner is going to trip out there!
I always prided myself on playing a solid game - which I measured by first serve percentage/placement, return of serve - and in particular always capitalizing on second serves - and making sure nothing got by me at the net. Nothing flashy but solid, clean and extremely difficult to break down as the opponent.
Next Up... Signing Week
And there you have it - the final article in our Countdown to Signing Week article series. These past four weeks have brought you 21 articles from 18 different authors. We hope that you have enjoyed reading these articles as much as we have enjoyed bringing them to you.
But the fun is far from over. Indeed, the Countdown is almost like an appetizer to the main course that is Signing Week! Come by next week for wall-to-wall content. Signing Day itself is on Wednesday, but we kick off our full coverage slate beginning on Monday. Multiple articles await you each and every day - as the Class of 2014 finally starts to make things official.
So kick back and check out any articles you may have missed so far... and then bring your A game next week during Signing Week!
Leave a Comment
More College Coverage
31-Dec-2019
A Day In The Life: Georgia Gwinnett's Valentino Caratini
Ever wonder what a typical day is like for a college tennis player? We've got you covered. Through their own words, we take you inside the schedule of juggling practices, matches and classes. Welcome to A Day In The Life of Georgia Gwinnett's Valentino Caratini.
21-Nov-2019
Mortera Navigates First Recruiting Period for Ute Women
Ric Mortera was hired to lead the Utah women's program on June 28th. Like nearly all first-year coaches, he knew some patience would be required for his first signing class. The Utes haven't signed anyone for 2020 yet, but are hoping two players can become the perfect fits.
20-Nov-2019
Nott Begins New Chapter at UT-Rio Grande Valley
After starting his coaching career with a Power Five conference program, West Nott has returned to college tennis with a program more removed from the national spotlight. Nott has taken over as the women's head coach at the University of Texas-Rio Grande Valley.
About Harry Cicma
When it comes to college tennis, Harry Cicma is your man. Cicma covers tennis and other athletic stories for
NBC Sports
, writing articles and producing video segments.
He is co-founder and host of World Tennis a weekly tennis show on NESN, and host of of Tennis Live Radio's College Corner.
Cicma competed as a junior in USTA/New England and went on to play college tennis at Rutgers University. As a professional, Cicma competed at the ATP Newport tournament and the San Jose Siebel Open. He reached a career-high #75 in the ATP doubles team rankings and #1262 in the ATP Entry System.
In media, Cicma has run the gamut. He has worked for NBC, CBS, ABC, ESPN, FOX Sports Net, the Tennis Channel, and World Team Tennis. Cicma has announced NCAA sports as well as the US Open Tennis Championships on both TV and radio.