College Feature
Talking with Columbia's Howard Endelman
by
Harry Cicma
, 30 November 2013
Follow Harry on
Twitter
One of the great stories at this month's USTA/ITA Indoor Intercollegiate Championships was the doubles championship earned by Ashok Narayana and Max Schnur of the Columbia Lions. The Columbia duo earned the program's first national tennis title since 1889, and they did it in front of their hometown fans.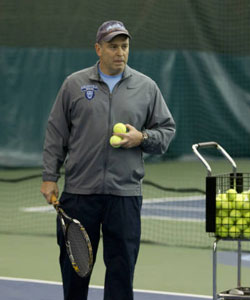 NBC's
Harry Cicma
- who works in New York and played college tennis at Rutgers - was one of the announcers at the event, and he got the chance to speak with Howard Endelman, the associate head coach of the Lions program. Cicma and Endelman talked about the Columbia tennis program, Ivy League tennis, and tennis in the New York area.
Check out what the Coach Endelman had to say...
Questions and Answers
Harry Cicma (HC): Columbia Men's Tennis proved at the ITA USTA National Indoors that it is among the elite teams in the country. Max Schnur and Ashok Narayana won the doubles title, and Winston Lin also made the quarterfinals in singles play. What does this say about your team?
Howard Endelman (HE): I think it says that a player can come to Columbia and really improve in tennis. Winston, Ashok and Max were all five-star recruits on Tennis Recruiting. They were pretty good junior players, but they were not blue chips who were winning Kalamazoo. But these guys work hard, play smart, and do the little things right when people are not watching.
As Ashok said after the match, "People have no idea how hard we work here." Ashok is right - these guys "put in the hard yards" with Tommy Sheehan, one of the best strength and conditioning coaches for tennis in the country who travelled on the ATP Tour. Now Winston in singles and Ashok/Max in doubles likely will start the dual match season ranked in the top 10 in all of Division I college tennis.
It is very kind of you to say that we are elite, but will the current Columbia tennis team ever beat Virginia or UCLA, last year's NCAA Finalists? No - those teams and others are currently the elite teams. But, I do think there is a culture at Columbia that our guys are going to do everything they possibly can to become really good in tennis.
HC: I know you and Head Coach Bid Goswami have been through many intense conference matches through the years. What makes Ivy League Tennis so competitive?
HE: The Ivy League has a rich tradition with many top 10 teams nationally over the years, but the overall level of tennis across the entire league has never been as strong as it is now. Tennis players often come from families who emphasize education and realize that there is no reason why a student-athlete cannot simultaneously excel both on an off the tennis court.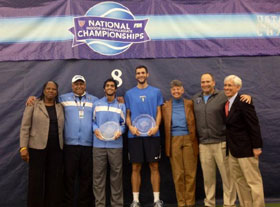 There are so many great colleges across the US with tremendous coaches. I think that Columbia and the other schools in our league - like other great institutions - can help student-athletes be successful in their futures when competitive tennis is over. I also think that maybe players are starting to realize that you do not have to sacrifice any of your tennis dreams if you come here.
HC: What traits do you look for in a recruit when trying to find a good fit for Columbia?
HE: We look for high achievers who want to reach their potential and be the absolute best they can be in everything they choose to do - in the classroom, on the tennis court, even in the science lab if that is the path they choose. Columbia wants high character kids with big tennis dreams.
I heard a famous football coach say the other day: "High achievers do not get along with mediocre people, and mediocre people do not get along with high achievers." Winston Lin is one of our guys who will play professionally after his time at Columbia. He probably was ranked around the mid-20s on Tennis Recruiting in his senior year of high school; now he likely will start the spring ranked top 10 in college tennis in his junior year. Winston, Ashok and Max have shown what is possible if you have a burning desire to improve.
But tennis always ends - even for Federer and Nadal and Djokovic. So another question for recruits is, are they willing to listen when they get here and use tennis as a vehicle to learn character and life skills that will help them to be successful when tennis ends? It is not so easy - but if you are smart and focused with your time, the sky is the limit.
HC: New York City is one of the best markets for Tennis, what makes it so special?
HE: So many people love tennis in New York City, especially around the time of the US Open. Like Ashok and Max mentioned in their press conference after the finals against Tennessee, we have incredible fans who follow us all over the country.
New York City also is home to so many Hall of Famers and former Grand Slam and Davis Cup Champions. US Davis Cup Captain Jim Courier lives here, Mario Ancic is now a law student at Columbia, John and Patrick McEnroe are true New Yorkers who live here. Our guys know them and garner inspiration from them. It creates a feeling in our players - "We might never be Hall of Famers, but why can't we also achieve a lot in tennis?"
I also think there is a natural connection between Wall Street and Tennis - lots of competitive people who thrive under pressure. New York City is also really fun.
HC: What are your goals for the up coming spring season with Columbia tennis?
HE: A few of our guys did well in the All-American Championships and National Indoors, but overall we have lots of work to do. We are going to keep trying to do things the right way and enjoy the process of improvement.
As far as tangible goals, we have won three of the past seven Ivy League titles. But we finished second in the past two years, so we are not going to think so much about outcome. We play strong teams in and outside of our league. But if our guys compete well, we can be a pretty solid team on the national level.
All we can do is try our best to do the right things to consistently improve in tennis. If we do that, Winston, Ashok and Max have proved that achievement beyond anything you ever dreamed is actually possible.
Leave a Comment
More College Coverage
31-Dec-2019
A Day In The Life: Georgia Gwinnett's Valentino Caratini
Ever wonder what a typical day is like for a college tennis player? We've got you covered. Through their own words, we take you inside the schedule of juggling practices, matches and classes. Welcome to A Day In The Life of Georgia Gwinnett's Valentino Caratini.
21-Nov-2019
Mortera Navigates First Recruiting Period for Ute Women
Ric Mortera was hired to lead the Utah women's program on June 28th. Like nearly all first-year coaches, he knew some patience would be required for his first signing class. The Utes haven't signed anyone for 2020 yet, but are hoping two players can become the perfect fits.
20-Nov-2019
Nott Begins New Chapter at UT-Rio Grande Valley
After starting his coaching career with a Power Five conference program, West Nott has returned to college tennis with a program more removed from the national spotlight. Nott has taken over as the women's head coach at the University of Texas-Rio Grande Valley.
About Harry Cicma
When it comes to college tennis, Harry Cicma is your man. Cicma covers tennis and other athletic stories for
NBC Sports
, writing articles and producing video segments.
He is co-founder and host of World Tennis a weekly tennis show on NESN, and host of of Tennis Live Radio's College Corner.
Cicma competed as a junior in USTA/New England and went on to play college tennis at Rutgers University. As a professional, Cicma competed at the ATP Newport tournament and the San Jose Siebel Open. He reached a career-high #75 in the ATP doubles team rankings and #1262 in the ATP Entry System.
In media, Cicma has run the gamut. He has worked for NBC, CBS, ABC, ESPN, FOX Sports Net, the Tennis Channel, and World Team Tennis. Cicma has announced NCAA sports as well as the US Open Tennis Championships on both TV and radio.