Special Announcement
USTA Announces Campus Showdowns
Press Release - 23 September 2008
The USTA announces the start of Campus Showdowns across the nation.
The USTA is teaming with the ITA to promote Campus Showdowns on college campuses throughout the United States. Over 50 schools have already signed up to host events this fall.
What are Campus Showdowns?
Campus Showdowns are one-day, short-format tournaments open to juniors, college players, professionals, and adults. These tournaments are non-sanctioned, non-ranking events and are considered "Open Events" under NCAA legislation.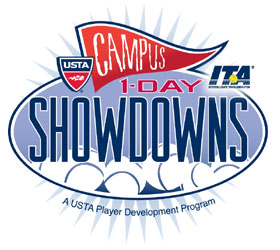 For junior players, it is a chance to compete against high-level collegiate competition on a college campus, which is not only great preparation for an upcoming junior event but also helps in laying a foundation for a future college career. It is the goal of the USTA and the ITA to make Campus Showdowns an integral part of junior and collegiate competition, further strengthening American Tennis.
The tournaments are run on college campuses with the college coach acting as tournament director. Both ITA Membership and USTA Organizational Membership are required to run a Campus Showdown. Entry Fees are kept low to provide access to a full range of players; to ensure this access, the USTA is providing a stipend to the first 100 schools that sign up to host an event. Generally entry fees run $10 for singles, $5 for doubles, and $15 for both.
Events utilize compass draws for both singles and doubles, guaranteeing 3-4 matches for each draw, and ensuring competitive match play throughout. Matches are usually one set with a tiebreaker at 5-5, although format and scoring is at the discretion of the director. Events can be men's, women's, or coed.
How do I sign up for a Campus Showdown?
Click here to access the latest Campus Showdown schedule. For more information or to sign up for a Campus Showdown near you, please e-mail the listed tournament director.
More Questions?
To learn more about Campus Showdowns, check out the USTA Varsity Collegiate Website.
Leave a Comment
More Special Features
12-Mar-2021
Barnes Tennis Center Ready For More Hosting Opportunities
Despite some restrictive measures in place throughout the state, Barnes Tennis Center in San Diego has been able to safely host several events. The facilty has even more coming, including the Easter Bowl and Pac-12 team championships.
24-Feb-2021
USTA Eastern Section: Vander Schaaf's Given Courage Award
Gavin Vander Schaaf was recently named the inaugural recipient of USTA Eastern's Junior Courage Award. He's undergone multiple brain surgeries and tennis has helped him get through some hard moments in life. In this month's USTA Section Spotlight, we learn more about Vander Schaaf.
19-Feb-2021
Eight Intriguing Questions for 2021
In an annual tradition, Colette Lewis provides her list of eight intriguing questions for junior, pro and college tennis in 2021. They come with the caveat that the Covid-19 disruptions could make some of them irrelevant or less impactful.