News & Features
Tournament Schedule
USTA/ITA Campus Showdown Schedule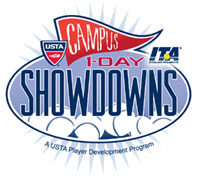 The USTA is teaming with the ITA to promote Campus Showdowns on college campuses throughout the United States. Campus Showdowns are one-day, short-format tournaments open to juniors, college players, professionals, and adults. These events give junior players a chance to compete against college competition on a college campus.
Learn more about these Showdowns here, and then check the schedule below to find a Showdown in your area - or at a school of interest for you. Just email the listed tournament director for more information.


There are no Schowdowns currently scheduled


Leave a Comment
More Special Features
12-Sep-2019
From Three-Star to All-American, Touliatos Thrives in College
Preston Touliatos was a three-star recruit with hardly any offers out of high school. After playing one year at Eastern Illinois, he transferred to Tennessee as a walk-on and developed into a doubles All-American for the Vols. Touliatos is now pursuing a pro career before entering med school.
19-Aug-2019
Gorzny on the Road to Recovery Following Major Health Scare
Sebastian Gorzny suffered a serious health scare during the USTA Boys 16s National Championships in Kalamazoo. The 15-year-old was hospitalized for seven days after his father found him unconcious and having seizures in his hotel room bed at 2 a.m.
9-Aug-2019
Spizzirri Brothers Reach International Heights in Tennis, Squash
Twins Eliot and Nicholas Spizzirri are both experiencing international success with racquets, only in different sports. Eliot is one of the top rising senior tennis players in the world while Nicholas is charting his own path in squash.