News & Features
Tournament Schedule
USTA/ITA Campus Showdown Schedule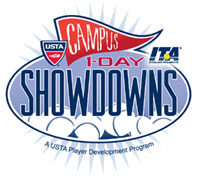 The USTA is teaming with the ITA to promote Campus Showdowns on college campuses throughout the United States. Campus Showdowns are one-day, short-format tournaments open to juniors, college players, professionals, and adults. These events give junior players a chance to compete against college competition on a college campus.
Learn more about these Showdowns here, and then check the schedule below to find a Showdown in your area - or at a school of interest for you. Just email the listed tournament director for more information.


There are no Schowdowns currently scheduled


Leave a Comment
More Special Features
24-Jan-2020
Nakashima Makes Next Step From Virginia to Pro Tour
After experiencing success in professional events and gaining confidence he could contend at that level, Brandon Nakashima decided to leave the University of Virginia after his freshman season. The San Diego native believes he gained a lot of positives from his one season in college tennis.
17-Jan-2020
Eight Intriguing Questions for 2020
Each year Colette Lewis looks ahead to an assortment of issues facing college and junior tennis, with two of the questions for the 2020 edition focusing on where two crown jewel events will be held. Find out the answers to this year's Eight Intriguing Questions.
10-Jan-2020
Captain Kathy: Talking with USTA's Head of Women's Tennis
Kathy Rinaldi is the head of women's tennis at the USTA and the United States Fed Cup captain. She recently sat down with Colette Lewis to discuss her roles, her thoughts on U.S. tennis and her best piece of advice for parents.