News & Features
Tournament Schedule
USTA/ITA Campus Showdown Schedule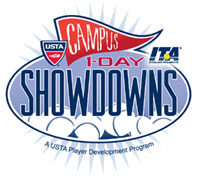 The USTA is teaming with the ITA to promote Campus Showdowns on college campuses throughout the United States. Campus Showdowns are one-day, short-format tournaments open to juniors, college players, professionals, and adults. These events give junior players a chance to compete against college competition on a college campus.
Learn more about these Showdowns here, and then check the schedule below to find a Showdown in your area - or at a school of interest for you. Just email the listed tournament director for more information.


There are no Schowdowns currently scheduled


Leave a Comment
More Special Features
4-Dec-2019
FGCU Players Run Their Own Free Clinics to Give Back
The Florida Gulf Coast University women's team hosts at least five free clinics each fall as a way to give back to kids in the local community. The players plan and run every clinic while their coach watches from the sidelines.
12-Sep-2019
From Three-Star to All-American, Touliatos Thrives in College
Preston Touliatos was a three-star recruit with hardly any offers out of high school. After playing one year at Eastern Illinois, he transferred to Tennessee as a walk-on and developed into a doubles All-American for the Vols. Touliatos is now pursuing a pro career before entering med school.
19-Aug-2019
Gorzny on the Road to Recovery Following Major Health Scare
Sebastian Gorzny suffered a serious health scare during the USTA Boys 16s National Championships in Kalamazoo. The 15-year-old was hospitalized for seven days after his father found him unconcious and having seizures in his hotel room bed at 2 a.m.