News & Features
Tournament Schedule
USTA/ITA Campus Showdown Schedule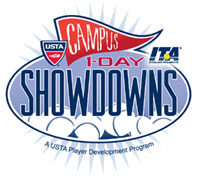 The USTA is teaming with the ITA to promote Campus Showdowns on college campuses throughout the United States. Campus Showdowns are one-day, short-format tournaments open to juniors, college players, professionals, and adults. These events give junior players a chance to compete against college competition on a college campus.
Learn more about these Showdowns here, and then check the schedule below to find a Showdown in your area - or at a school of interest for you. Just email the listed tournament director for more information.


There are no Schowdowns currently scheduled


Leave a Comment
More Special Features
28-Aug-2020
Catching Up With Former Ohio State Star JJ Wolf
Former Ohio State star JJ Wolf turned pro after his junior year in college. The Cincinnati native has received a main draw wildcard for the upcoming U.S. Open in New York. Colette Lewis recently caught up with Wolf after his appearance in the Western & Southern Open.
17-Jul-2020
Touring Pros Add Sales Skills Through Har-Tru Initiative
Former collegiate All-Americans Jamie Loeb and Alex Rybakov are representing tennis court company, Har-Tru, while they compete on the Pro Circuit. Loeb and Rybakov are hoping to gain business experience they can use in the future as part of the Har-Tru players' sales team.
21-Jun-2020
Father's Day Commitment: Sons Choose To Play For Dad
Ben Shelton, Gavin Young, Frank Thompson and Ashe Ray gave their dads a long-lasting Father's Day gift by committing to play for them in college. As sons of coaches, the four grew up around their dad's programs and see the benefit of joining their teams.