USTA National Indoor Champions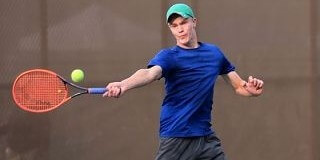 Some of the top junior players in the country took to the courts during the Thanksgiving holiday weekend to contend for titles at the USTA National Indoor Championships. Singles and doubles winners in four divisions were crowned in boys and girls. Story
| | |
| --- | --- |
| The Lotto Elite Hot 100 features 100 boys and 100 girls who have been playing outstanding tennis. These players have substantially improved their rankings over the past month. | |
Connect with Lotto Elite on Instagram and Facebook.
College tennis is a goal for many players and parents, and they should learn about the recruiting process. Ethos School is proud to sponsor Recruiting 101 - with articles about recruiting, eligibility, and more.
Mizuno is proud to present exclusive articles that preview and wrap up top junior tennis tournaments from around the country.
Follow college tennis with the ITA - the governing body that oversees all levels of men's and women's varsity collegiate tennis.
Since 2011, Lisa Stone has been writing about all things junior tennis from a parent's perspective at
Parenting Aces
. Tune in to her
radio call-in show
each Tuesday at 11am ET.
Help build our following.
Follow us on Facebook
| | |
| --- | --- |
| For coverage of NCAA Division III men's and women's tennis, check out Division3Tennis.com - your one-stop shop for all things D-III. | |


| | |
| --- | --- |
| Photo galleries are proudly presented by College Tennis Experience Showcase Camps. | |
Inspiration Academy Tennis is the proud sponsor of Recruiting Class Rankings for college tennis teams. Check out the top classes from across the country - and see how your team stacks up.
National Showcase Tournaments are USTA-sanctioned events open to players from all sections. Compete against players outside of your district or section - and earn credit towards your Tennis Recruiting ranking.
Date
Tournament
Events
12/01
L5 Veg-All Junior Chmp.
Florence, SC
BG12-18
12/15
L5 Open: Reis TC Dominant Duo
Ithaca, NY
BG14
12/16
L5 Open: Western Athletic Club
Cincinnati, OH
B18
12/16
L5 Open USTA Junior Chmps.
Plantation, FL
BG12-14
12/16
L5 Open: Boca Delray Flighted
Delray Beach, FL
BG16-18
12/16
L5 Open: Five Seasons Cincinnati
Cincinnati, OH
B14
12/16
L5 Open: Boca Delray Chmps.
Delray Beach, FL
BG16-18
Click here for the complete
Series Schedule
Diadem is proud to present exclusive college content - covering men's and women's college tennis programs of all sizes from around the country.
Smith Stearns Tennis Academy is proud to present the College Commitment Lists. Check out the latest commitments here - and the full listings below.
Full Listings: Boys' Commits & Girls' Commits
Smith Stearns Tennis Academy
- training young players with a true passion for tennis since 2002.
| | |
| --- | --- |
| For all things college tennis, check out College Tennis Today - with coverage, insight, and analysis of the game. | |
The USTA's Tennis On Campus program is designed to provide college students with opportunities for team camaraderie, social networking, and rivaled competition through tennis without the rigors of a varsity program.
The lifeblood of Tennis Recruiting is its rankings - and our team has been ranking tennis players for more than two decades. Learn about tennis rankings in general - as well as our best-of-breed ranking system.
Recent Tournament Forecasts
Click here for the complete list of all of our
Tournament Forecasts
.