Blue Chip Girls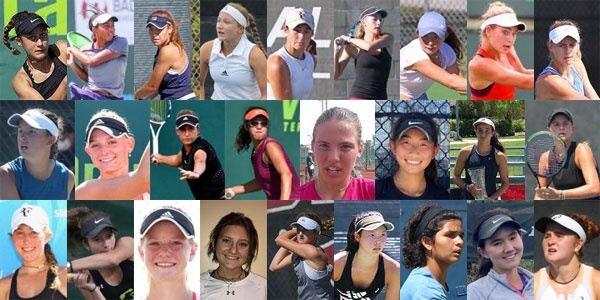 Signing Day will be here before you know it, and the focus on recruiting is building quickly. Last week we looked at the boys ... today we check in on the Blue Chip Girls. Take a look at the status of some of the top girls in the Class of 2022. Story
Connect with Lotto Elite on Instagram and Facebook.
Last Event:
Aug 2021
USTA Nationals
Up Next:
December 28, 2021:
USTA Winter Nationals
| Date | Host City | Events |
| --- | --- | --- |
| 12/28 | Orlando, FL | BG16-18 |
| 12/28 | Tucson, AZ | BG12-14 |


The Tennis Recruiting Network is counting down the days until the start of the Spring Signing Period. until Fall Signing Day --- November 10, 2021.

Make sure to check out our complete coverage schedule:

adidas adiplayer is the proud sponsor of the National Showcase Series, a set of USTA-sanctioned tournaments open to players from all sections. Compete against players outside of your district or section - and earn credit towards your Tennis Recruiting ranking.
Date
Tournament
Events
11/13
Level 5 Open - TC of Albuquerque Open
Albuquerque, NM
BG18-12
11/19
Level 5 Open - Western States Open
Tucson, AZ
BG18-12
12/04
Level 5 Open - SW Masters
Santa Fe, NM
BG41-12
12/04
Level 5 Open - SW Masters
Albuquerque, NM
BG18-16
12/18
Level 5 Open - Sun Bowl
El Paso, TX
BG18-12
12/27
Level 6 Harrison Chili Bowl
Marietta, GA
BG18-12
Click here for the complete
Series Schedule
RIA Eyewear is proud to present exclusive college content - covering men's and women's college tennis programs of all sizes from around the country.
Smith Stearns Tennis Academy is proud to present the College Commitment Lists. Check out the latest commitments here - and the full listings below.
Full Listings: Boys' Commits & Girls' Commits
Smith Stearns Tennis Academy
- training young players with a true passion for tennis since 2002.
| | |
| --- | --- |
| For all things college tennis, check out College Tennis Today - with coverage, insight, and analysis of the game. | |
The lifeblood of Tennis Recruiting is its rankings - and our team has been ranking tennis players for more than two decades. Learn about tennis rankings in general - as well as our best-of-breed ranking system.
Recent Tournament Forecasts
Click here for the complete list of all of our
Tournament Forecasts
.
Help build our following.
Follow us on Facebook