Notes
The table above lists all recruits as of May 7, 2021. In addition to the Star Rating, we display the highest TRN, UTR, ITF junior, and WTT rankings for each player since January 1, 2020, and for international players we display the TRN ranking they would hold if eligible.
Also Receiving Votes
Other women's programs receiving votes are: Notre Dame (39), Rice (38), Michigan (34), Florida International (32), Northwestern (28), Miami (OH) (16), UC Santa Barbara (15), Army (10), Florida Atlantic (10), Old Dominion (10), Chicago (9), Tennessee (7), Boston College (5), Jacksonville State (5), Northwestern State (LA) (4), Tufts (3), Liberty (2)
Back on The Farm
The past 15 months have been out of the ordinary to say the least. That statement also holds true for the 2020-21 Women's College Tennis season.
Alexandra Yepifanova is one of three Top 10 recruits heading to Stanford
©
ZooTennis.com
The Stanford Cardinal is as close to a sure thing as you can get in college tennis. Of the 39 NCAA Championships contested since the first tournament in 1982, Stanford has won 20 titles overall and 10 of the past 20. Their NCAA Championship dual record stands at an eye-popping 160-20 all time.
But COVID-19 contributed to an early exit for the Cardinal in 2021. Stanford bowed out in the second round, marking Stanford's earliest departure in program history.
All signs point towards a more normal year in 2021-22, and Cardinal Head Coach Lele Forood has a recruiting class that should push the Cardinal in the right direction. A trio of Top 5 recruits - Connie Ma (Dublin, Calif.), Valencia Xu (Livingston, N.J.), and Alexandra Yepifanova (Lake Worth, Fla.) - are all heading to Palo Alto in the fall. That group collected all 14 first-place votes from our panel and is the unanimous selection for the No. 1 recruiting class. That unanimous result is historic - Stanford is the only unanimous No. 1 in the history of our poll dating back to its start in 2006.
This group has won matches on the largest of stages. Ma won both the singles and doubles gold balls at the 2019 USTA Girls 18 Winter Nationals and went 9-0 for the United States in Junior Fed Cup. Xu won the 2021 Easter Bowl Doubles Title as well as a gold ball in singles at the 2019 USTA National Women's Open at the USTA Billie Jean King National Tennis Center. Not to be outdone, Yepifanova reached the finals of the 2019 US Open Juniors as a qualifier and also competed at Wimbledon.
Forood is excited to get this group on campus.
"We are thrilled with our recruiting class for 2021," said Forood. "To get Alexandra, Connie, and Valencia in one class is remarkable, and we are so excited for what they will add to the legacy of the Stanford women's tennis program."
Give Me Five
Several other recruiting classes impressed our panel, starting with the Texas A&M Aggies at No. 2.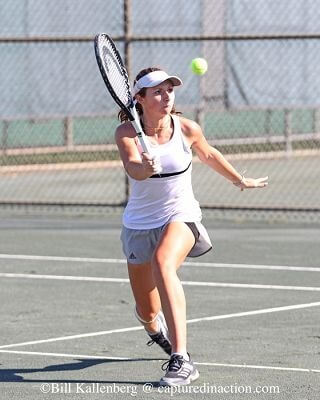 Aggie Head Coach Mark Weaver has attracted a class with a nice mix of in- and out-of-state talent. Blue Chip recruit Gianna Pielet (El Paso) and 5-Star talent Jeanette Mireles (Houston) are the in-state recruits from Texas. Over the past year, this pair has competed mainly in UTR prize money events, and they combined for a 27-6 record in last year's ITA Summer and Fall Circuits. They will be joined in College Station this fall by Ellie Pittman of Indianapolis - the top-ranked senior in the state of Indiana - as well as Mary Stoiana (Southbury, Conn.) who recently won singles titles at the ITF Coral Gables J4 as well as a USTA Level 2 in Midlothian, Va. This group earned 310 points from our panel to secure the No. 2 spot in our rankings.
The Duke Blue Devils check in at No. 3 in our rankings with a pair of Blue Chip recruits who have both been ranked in the Top 5 of the senior class. Ellie Coleman (Midland), the top-rated recruit out of Michigan, has had a lot of success on the ITF circuit. Notable results include a singles win in the 2020 French Open juniors and a semifinals appearance at the 2020 Australian Open Junior Championships. Also Duke-bound is Emma Jackson (La Grange Park, Ill.) who has most recently been posting big wins in UTR Pro Series events.
Rounding out our Top 5 are the Georgia Bulldogs and UCLA Bruins at the No. 4 and 5 spots, respectively.
Pac Power
The Pacific-12 Conference is a historic conference when it comes to college tennis. How historic? At least one Pac-12 program appeared in every championship match from 1999 onward until this year's matchup between Texas and Pepperdine. Two of those years (2004, 2008) featured all-Pac-12 finals.
The Pac-12 leads all conferences with 6 teams in the recruiting class rankings. Joining Top-5 programs Stanford (No. 1) and UCLA (5) on our list are the Arizona State Sun Devils (8), Arizona Wildcats (17), California Golden Bears (21), and Southern California Trojans (23). More than half - 6 of 11 - of the Pac-12 programs register in our rankings.
Other notable conferences are the Big 12 Conference (5 ranked classes) and the Ivy League (4 classes) - each with half of its members in the rankings.
Major Waves
Only one program in our rankings comes from a conference outside of the traditional six power conferences - the Pepperdine Waves. Pepperdine is a fixture in the NCAA Tournament, running their streak of consecutive appearances to 19 and reaching the quarterfinals or beyond four of the past five years. 2021 marked the best performance in school history with an appearance in the championship match.
Next year, Pepperdine has one of the strongest recruits in the country heading to Malbu in Savannah Broadus (Carrollton, Texas) who gives the Waves the No. 16 class. The Top-5 Blue Chip recruit is no stranger to the big stage, as she won the 2019 Wimbledon Girls Doubles title. Broadus should help Head Coach Per Nilsson cope with the departure of several key contributors from his 2021 squad.
Drop Shots
Scattershooting through the rankings:
Panelists for 2021
The 14 panelists for this voting period are shown below alphabetically. Please join us in thanking them for donating their time and talents to this effort.
Casey Chapin - National Tournament Director, Director, Hudlow Tennis Center
Sonny Dearth - Daily Press newspaper and dailypress.com Web site in Newport News, Va.
Joey Dillon - TRN contributor, freelance writer
Tim Donovan - Donovan Tennis Strategies, DTS College Prospects Showcases
Larry Haugness - Former ITF and USTA National Tournament Director, PTR National Tester, USPTA, Junior Davis Cup Coach
Granger Huntress - Texas College Tennis blog
Bobby Knight - CollegeTennisToday.com
Matt Knoll - American College Placement, Former Head Coach at Baylor University.
Dave "The Koz" Kozlowski - Inside Tennis With The Koz, The Tennis Channel
Colette Lewis - ZooTennis.com
Rick Limpert - TRN contributor, freelance writer
Parsa Nemati - Junior and college tennis expert, Parsa Bombs
Robert Sasseville - National Tournament Director, USTA Junior Competition Committee Member, USTA National Referee
Lisa Stone - ParentingAces.com
Leave a Comment
More Recruiting Class Rankings
7-Feb-2022
Top Women's Classes - 2022 Winter Rankings
The size of our commitment list is pushing 500 for the senior girls. With that in mind, today is a great time to check in on how schools are doing on the recruiting trail. Today, the Tennis Recruiting Network is proud to present the Top 25 Women's College Tennis Recruiting Classes of 2022.
31-Jan-2022
Top Men's Classes - 2022 Winter Rankings
With Signing Week in the rear view mirror and over 800 college commitments in the books, today is a great time to take a look at the top recruiting classes. TRN is excited to present its 2022 Men's Recruiting Class Rankings.
14-Jun-2021
2021 Top Mid-Major Men's Classes
The Tennis Recruiting Network continue its recruiting class ranking series this week with a look at the mid-majors. Today we present the Top 25 Men's Mid-Major Recruiting Class Rankings for the Class of 2021.